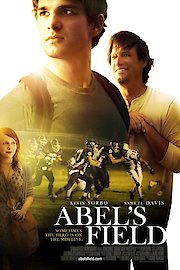 Watch Abel's Field
"Sometimes the heroes are on the sidelines"
PG
2012
1 hr 44 min
Abel's Field is a touching and inspirational drama film directed by Gordie Haakstad and released in 2012. The film follows the story of Seth McArdle (played by Samuel Davis), a high school student in a small Texas town, who struggles to make ends meet and take care of his younger sisters after their mother abandoned them and their father died.
Seth's life takes a different turn when he meets Abel (played by Kevin Sorbo), the school's groundskeeper who also happens to be a devout Christian. Abel offers to help Seth with his living situation and his academic struggles, and encourages him to join the football team despite his height and lack of experience.
As the story unfolds, Seth and Abel get closer and develop a strong bond based on trust and mutual respect. However, their friendship is not welcomed by some of the town's residents who see Abel as an outsider and Seth as a troublemaker.
Throughout the film, there are many themes that are explored such as faith, forgiveness, family, and the power of kindness. Abel's unwavering faith in God serves as an inspiration to Seth, and he begins to see things differently. He realizes that he has a purpose in life and that he needs to let go of the anger and resentment he has been carrying for so long.
The film is not only a heart-warming story of friendship but also a sports drama as Seth's football team competes in the state championship. The football scenes are well-executed and exciting to watch, and they add to the overall message of the film - that anything is possible if you have faith and perseverance.
The cast of Abel's Field is exceptional, with standout performances from Kevin Sorbo as Abel and Samuel Davis as Seth. Sorbo, who is known for his role in the hit TV series Hercules: The Legendary Journeys, brings a quiet strength and depth to his character that is both compelling and authentic. Davis, who was relatively unknown at the time, delivers a nuanced performance that is both raw and touching.
The cinematography of the film is also noteworthy, with the beautiful landscapes of Texas serving as a backdrop to the story. The film's lighting and production design add to the film's overall mood and tone, creating a sense of warmth and intimacy.
In summary, Abel's Field is a moving and inspiring film that is well worth seeing. The film's message of hope and resilience serves as a reminder to never give up and to always believe in oneself. The film's excellent cast and adept storytelling make it a must-see for fans of drama and sports genres alike.
Abel's Field is a 2012 drama with a runtime of 1 hour and 44 minutes. It has received moderate reviews from critics and viewers, who have given it an IMDb score of 6.4.