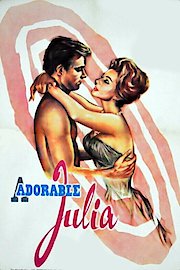 Watch Adorable Julia
"The witty, wicked story about what starts up when the curtain goes down!"
1962
1 hr 37 min
Adorable Julia, released in 1962, is a romantic comedy that tells the story of a successful fashion designer, Julia (played by Lilli Palmer), who finds herself torn between two men, her ex-husband and her new love interest. Julia is a strong and independent woman who has built a successful career for herself in the fiercely competitive world of fashion. She has worked hard to establish herself and is well-respected in her industry. But her personal life is complicated. She is divorced from her husband, Jacques (played by Charles Boyer), who is still in love with her and wants her back. Julia, on the other hand, has moved on and is now in a relationship with a younger man, a handsome photographer named Gérard (played by Jean Sorel). The love triangle between Julia, Jacques, and Gérard is the central focus of the movie. Jacques is a wealthy man who is used to getting what he wants. He is charming and sophisticated, but also manipulative and controlling. He tries to win Julia back by using his money and influence, and by playing on her emotions. He argues that Gérard is too young and inexperienced to be a good match for her, and that he (Jacques) can provide her with stability and security. Julia, however, is determined to follow her heart and stay with Gérard. Gérard, on the other hand, is a free-spirited artist who is deeply in love with Julia. He is kind, passionate, and creative, but also impulsive and sometimes reckless. He is aware of Jacques' attempts to win back Julia, but he is confident in his love for her and is willing to fight for her. He believes that Julia is his soulmate, and that together they can build a life of creativity and adventure. As Julia tries to navigate the complexities of her two relationships, she must also deal with the demands of her business. She is preparing for a major fashion show, and the pressure is mounting. She has to deal with temperamental models, demanding clients, and a looming deadline. Despite the stress, Julia remains focused and determined, using her talent and experience to create stunning designs that are sure to impress. The movie is set against the backdrop of Paris in the early 1960s, and the city is a prominent feature in the film. The streets, cafes, and galleries of the city are all captured on camera, providing a vivid glimpse into the world of high fashion and art. The film's cinematography is stunning, with beautiful shots of Paris at night, and evocative scenes of Julia's fashion designs. Adorable Julia is a charming and entertaining film that explores the themes of love, independence, and creativity. It is a romantic comedy that is both light-hearted and thought-provoking, with wonderful performances by the cast. Lilli Palmer brings a depth and complexity to the character of Julia, balancing her strength and determination with vulnerability and tenderness. Charles Boyer is perfectly cast as Jacques, portraying the character's charm and sophistication, as well as his darker tendencies. And Jean Sorel is a delight as Gérard, capturing the character's passion and energy. Overall, Adorable Julia is a classic romantic comedy that is worth watching for its stylish depiction of Paris in the 1960s, its engaging love story, and its strong performances.