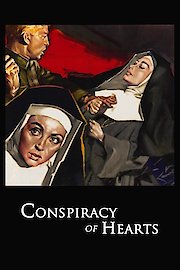 Watch Conspiracy of Hearts
"Torture, Killing and Vicious Passions...And Incredible Courage"
NR
1960
1 hr 53 min
Conspiracy of Hearts is a British war drama film that was released in 1960. It follows the story of a group of nuns who risk their lives to rescue Jewish children from a concentration camp during World War II. The film stars Lilli Palmer as Sister Katharine, the leader of the nuns who spearhead the rescue mission. Sylvia Syms and Yvonne Mitchell play her fellow sisters, Sister Mitya and Sister Gerta, respectively. The story takes place in Italy, where the nuns run a cloistered convent. As the war rages on, the Nazis occupy their city and begin rounding up the Jewish population for deportation to concentration camps. The nuns witness the roundup and are moved to act. In secret, they set up a hideout in the convent's basement, where they harbor Jewish children who have been orphaned or separated from their families. At great risk to themselves, the nuns undertake a dangerous mission to smuggle the children out of the city and across the Italian border to safety in Switzerland. The film is a powerful exploration of the courage and sacrifice of ordinary people during times of war. The nuns face constant danger from the Nazis, who are suspicious of their activities and threaten them with imprisonment and execution. However, the nuns remain undaunted in their mission to save the children, even when it means risking their own lives. The film portrays them as heroes who embody the best of humanity in the face of unspeakable evil. Conspiracy of Hearts was directed by Ralph Thomas and written by Robert Westerby. The film was well-received by critics, who praised its compelling story and powerful performances. Lilli Palmer, in particular, was singled out for her magnificent portrayal of Sister Katharine. Her performance conveys both the quiet strength and fierce determination of the character, who is the driving force behind the rescue mission. Sylvia Syms and Yvonne Mitchell also deliver standout performances, imbuing their characters with depth and complexity. The film is notable for its depiction of the Catholic Church's role in protecting Jewish refugees during the Holocaust. It sheds light on the little-known stories of the nuns and priests who risked their lives to shelter those in danger. Conspiracy of Hearts is a timeless film that continues to resonate with audiences today. Its message of hope and humanity in the face of the darkest of circumstances is one that will always be relevant.