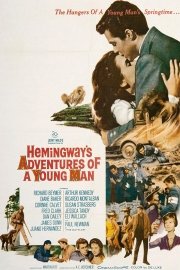 Watch Adventures of a Young Man
"The hungers of a young man's springtime..."
Approved
1962
2 hr 25 min
A fictionalized portrait of Ernest Hemingway's youth, based on his semi-autobiographical short stories. No one has stirred more people more deeply with his rousing adventures than Ernest Hemingway. And of all he wrote, many will most dearly remember what he put down about the passions and promise of awakening youth...how it feels to be nineteen... to feel the blood on fire with hungry, haunting desires... to sense the world closing in - trying to smother you... and you've got break out - or bust! This is the story of those years...the self-doubt and self-confidence, the ecstasy and excitement of a young man's springtime...when every hour is a fresh adventure, every moment a chance for the brave life...the big love!