Watch Alien
"In space no one can hear you scream."
Alien is a science horror film that came out in the year 1979. It was directed by renowned director Ridley Scott. In this movie viewers will get to see a very interesting and thrilling story. The movie is about a crew of people who ship various natural resources throughout space. One day they receive a signal from a ship in another planet and explore it. A few members of the crew stumble upon a large spaceship and discover various lifeforms. One of the lifeforms jumps onto one of the crewmembers face and injects an object in him. Later on as they leave the planet, the man has a creature burst out of his torso killing him and allowing it to roam freely in the ship. As a result the creature grows to be a very large size and terrorizes the crew killing them one by one. This movie was initially one that received a mediocre reception but over time it got lots of acclaim and is now an all time classic.
In the 22nd century a group of workers for the Weyland Yutani Corporation are shipping ore to Earth. While they are sleeping they are awakened by a signal of another ship from a nearby planet. The crewmembers wake up and land on the planet. Once they land they discover a spaceship and find out it has various lifeforms on it. They go down to the lower level of the ship and find even more lifeforms. One of the crewmembers has a creature jump onto his face. The other two crewmembers bring him back into the ship despite warnings of contamination. Once they are in the ship they find a creature that is latched onto his face. They are unable to get it off. However the creature eventually gets off his face by itself and dies. After this happens the crewmembers leave the planet and the man seems okay. Unfortunately the man had a creature in his body and it then bursts out killing him. Once the creature is out it roams around the ship and grows to a large size. The crewmembers are desperately trying to locate and eliminate the creature. However all but one of them survives and succeeds in eliminating the creature. In the end the remaining survivor goes back to sleep and waits to return to earth.
|
1979
|
1 hr 59 min
|

/

10
Cast

Studio

Director

Ridley Scott

Language

English
Alien News
Prometheus: Part Deux! Are We Ready?
August 02, 2012 @ 6:53 pm PST
|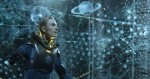 Ridley Scott has signed on to deliver us a sequel to the much talked about "Prometheus" that will hopefully address some of the questions left open by the first movie. Or, will it just leave us equally frustrated, crying into our Milkduds?
Read More

'Prometheus' TV Spot Keeps The Hype Train Rolling (Video)
March 27, 2012 @ 11:00 am PST
|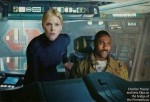 One could've forgiven anybody who'd previously lost "Prometheus" among the summer-movie shuffle presently dominated by "The Dark Knight Rises" and "The Avengers." One well-received teaser-for-the-teaser and a rave-reviewed teaser trailer later, the Ridley Scott space romp looks more and more like a must-see. With the film hitting theaters June 8, it's about time the TV campaign began.
Read More

'Prometheus': What Are the Critics Saying in the Early Reviews?
May 30, 2012 @ 6:16 pm PST
|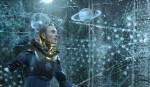 There has been a good deal of mystery surrounding "Prometheus," Ridley Scott's latest sci-fi epic and prequel to "Alien." But now the reviews are out, and we can learn a bit more. So, what are the critics saying?
Read More

Watch The Teaser For The New Trailer For Ridley Scott's 'Prometheus'
March 12, 2012 @ 2:14 pm PST
|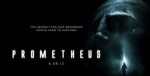 Tick-tock. The clock's ticking toward summer, when TV's malaisse of reruns means your local multiplex and mine seize the day. With time winding down to its June release, 20th Century Fox is hyping the next trailer sneak-peek at its kinda-sorta "Alien" prequel, "Prometheus."
Read More


Watch Alien Trailer

Alien (1979) (HD Trailer)|1:58
Watch Alien Online - Watch online anytime anywhere: Stream, Download, Buy, Rent
Alien is currently available to watch and stream, download, buy, rent on demand at Amazon Prime, HBO NOW, Amazon, Vudu, FandangoNow, iTunes, YouTube VOD online.