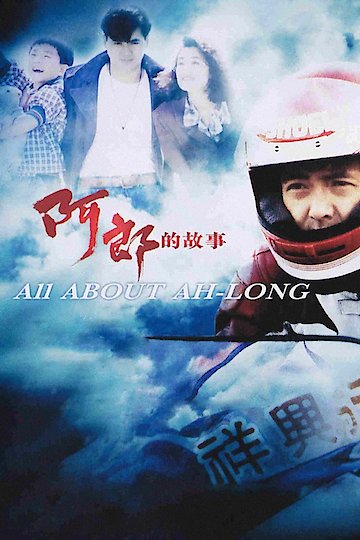 Watch All About Ah-Long
"A painful story of a man to learn the hard facts of life…"
All About Ah-Long is a 1989 drama film from Hong Kong directed by Johnnie To and starring Chow Yun-Fat in the titular role of Ah-Long. The film tells the story of Ah-Long, a widower who works as a motorcycle courier to support himself and his son, Xiao-Peng, who he largely neglects. Despite his rough exterior, Ah-Long has a soft spot for his son and hopes to reconnect with him.
The film begins with Ah-Long taking on a new job delivering a parcel to a wealthy businessman. He meets the businessman's secretary, Chen Chen, and they begin a complicated relationship that involves blackmail and deceit. Meanwhile, Ah-Long's estranged ex-girlfriend, Lee Ying, reappears in his life with their son, who she had kept from Ah-Long. She entrusts Xiao-Peng to Ah-Long's care, forcing him to confront his role as a father and mend his ways.
As Ah-Long struggles to balance his work and parenting responsibilities, his relationship with Chen Chen becomes more complicated. Eventually, his past catches up with him, leading to a dramatic finale that sees Ah-Long fighting to protect his family.
The film features strong performances from its lead actors, particularly Chow Yun-Fat as Ah-Long, who brings depth and complexity to his portrayal of a flawed character. Sylvia Chang is also excellent as Lee Ying, bringing both toughness and vulnerability to her role. The film's supporting cast is also strong, particularly Kun-Hsuan Huang as the young Xiao-Peng, who gives a heartwarming performance as Ah-Long's neglected son.
All About Ah-Long is a touching and emotional film that explores themes of family, redemption and the power of love. It is a story about second chances and the importance of putting family first. The film is directed with sensitivity and nuance by Johnnie To, who crafts a gripping drama that is both compelling and thought-provoking.
Overall, All About Ah-Long is an excellent film that showcases some of the best talents in Hong Kong cinema. It is a compelling drama that will appeal to fans of family dramas, as well as those who appreciate strong performances and excellent filmmaking.