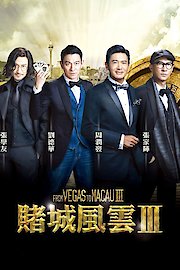 Watch From Vegas to Macau III
2016
1 hr 52 min
From Vegas to Macau III is a 2016 Hong Kong-Chinese action comedy film directed by Andrew Lau and starring Chow Yun-Fat, Andy Lau, and Jacky Cheung. It is the third and final installment in the From Vegas to Macau film series. The movie follows the story of a retired master gambler, Ken Shek (Chow Yun-Fat), who is living in retirement but is called back into action to assist his protégé, Cool (Nicholas Tse) with a tricky heist. Ken recruits a team of familiar faces from the previous movies, including his daughter, Mei (Yao Chen), and his good friend, Mark (Andy Lau), to help with the mission.
Their plan involves stealing a famous diamond, which leads them to the glamorous and dangerous world of the Oriental Diamond, a notorious casino that is home to the most skilled and ruthless gamblers in the world. The group must dodge the casino's security forces and outsmart the owner of the casino, a wealthy businessman named Ko (Jacky Cheung), who is obsessed with the diamond and will stop at nothing to get it.
Throughout the movie, the characters find themselves in various precarious situations, but their wit, ingenuity, and courage help them to overcome the challenges. From high-octane car chases and intense gunfights to elaborate schemes and daring heists, the movie is filled with action-packed moments that keep viewers on the edge of their seats.
Beyond the thrilling action, the movie also offers a healthy dose of humor and heartwarming moments. The chemistry between the characters, particularly between Chow Yun-Fat and Andy Lau, is enjoyable to watch as they banter and joke with each other throughout the movie.
The movie's cinematography, soundtrack, and production design are also noteworthy. The casino scenes are glamorous, and the diamond heist sequence is beautifully choreographed, adding to the film's overall visual appeal. The soundtrack complements the action scenes perfectly, building suspense and adding to the film's excitement.
Overall, From Vegas to Macau III is a film that delivers on its promise of exciting action and memorable characters. It is a fitting conclusion to the From Vegas to Macau trilogy and a showcase of the talent of Hong Kong cinema. Chow Yun-Fat, Andy Lau, and Jacky Cheung are at the top of their game, creating characters that are both entertaining and relatable. Fans of the series and action-comedies will not be disappointed by this thrilling and entertaining film.
From Vegas to Macau III is a 2016 action movie with a runtime of 1 hour and 52 minutes. It has received mostly poor reviews from critics and viewers, who have given it an IMDb score of 2.6.