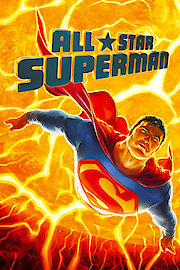 Watch All-Star Superman
"The measure of a man lies not in what he says, but what he does."
PG
2011
1 hr 16 min
A direct-to-video animated film, All-Star Superman depicts the Man of Steel at some of his most classic moments while he's been poisoned and over-powered. Slowly dying, he intends to make the most of the time he has left. The film opens with Superman flying close to the sun to save some astronauts who are being attacked by a malfunctioning clone. Though victorious, Superman is over-saturated with solar energy and is slowly dying, though gaining new power as a result. He returns to Metropolis, determined to do as much good as he can and enjoy as much of his life as remains. He begins by revealing his identity to Lois Lane, taking her to the Fortress of Solitude and presenting her with a gift: a serum that will grant her his abilities for one day. However, no sooner have the two begun to help people than the characters Samson and Atlas arrive on scene. Superman is challenged to a series of contests, both to save Lois and to win her affections, as the actions of the two have placed her near to death with the aid of an ancient and powerful necklace. Superman bests them, rescues Lois, and the day appears to be saved. When he goes for an exclusive interview on death row with Lex Luthor as Clark Kent, the extreme power he's throwing off is siphoned up by the Parasite, who rampages through the prison. Superman puts the Parasite down, without revealing himself, and escapes from the prison. Luthor, who has manipulated one of Clark's robots, steals the formula used by Lois to grant himself superpowers, escapes execution and embarks on a new plan. Meanwhile Superman is off with the bottled city, putting it on a new planet, and fighting the ambitions of two Kryptonian astronauts who are trying to recreate Krypton on Earth. Luthor's plans fail, Superman steals back the formula, and appears to throw himself into the sun. But is that the death of the Man of Steel?