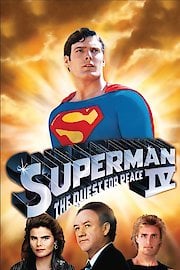 Watch Superman IV: The Quest for Peace
"Nuclear Power. In the best hands, it is dangerous. In the hands of Lex Luthor, it is pure evil. This is Superman's greatest battle. And it is for all of us."
PG
1987
1 hr 30 min
24
Superman IV: The Quest for Peace is a superhero movie from 1987 that follows the story of Superman as he tries to rid the world of nuclear weapons. The film stars Christopher Reeve as Superman, Gene Hackman as the villainous Lex Luthor, and Margot Kidder as Lois Lane. The film begins with Superman discovering that the world's most powerful nations are still developing nuclear weapons. Horrified at the thought of the devastation they could cause, he decides to take matters into his own hands and rid the world of all its nuclear weapons. He takes one of the nuclear missiles and throws it into the sun, hoping to send a message to the world that nuclear weapons should be abolished. However, his actions are not well received by everyone. Lex Luthor, who has just been released from prison, sees Superman's actions as a threat to his own power and influence. He hatches a plan to create his own nuclear-powered supervillain, Nuclear Man, who he hopes can defeat Superman. Nuclear Man proves to be a formidable opponent for Superman, with the two engaging in several intense battles throughout the movie. Meanwhile, Superman also has to deal with personal challenges, such as his relationship with Lois Lane and the fact that his alter ego, Clark Kent, has been fired from his job as a reporter. As the movie progresses, Superman realizes that defeating Nuclear Man is not enough to rid the world of nuclear weapons. He must convince the world's leaders that they are risking their own destruction by continuing to develop these weapons. Superman IV: The Quest for Peace received mixed reviews upon its release. Critics praised Reeve for his portrayal of the iconic hero but criticized the film's weak plot and special effects. Despite this, the movie has remained a beloved piece of pop culture and is remembered by many as a classic superhero film. In conclusion, Superman IV: The Quest for Peace is an exciting superhero movie that sees Superman taking on some of the most significant challenges of his career. With its intense action scenes, personal struggles, and message of peace, it remains a beloved film for fans of the superhero genre.