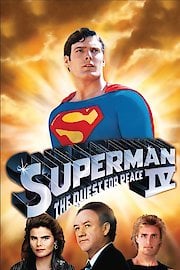 Watch Superman IV: The Quest for Peace
"Nuclear Power. In the best hands, it is dangerous. In the hands of Lex Luthor, it is pure evil. This is Superman's greatest battle. And it is for all of us."
PG
1987
1 hr 30 min
24
In Superman IV, Superman once again goes against his biggest foe: Lex Luthor. After Lenny Luthor lets his uncle out of jail, Superman must come back into the public eye and save the world from a nuclear war. Along with battling Lex Luthor, Superman must confront his relationship with Lois Lane and secret messages left by his Earth parents. The film confronts nuclear war, battles on the moon, and true family ties.