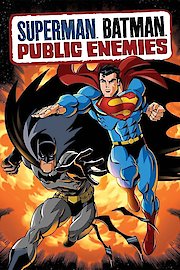 Watch Superman Batman: Public Enemies
"No one is above the law."
PG-13
2009
1 hr 7 min
An original animated film based on the comic book story arc Public Enemies, Batman and Superman team up and have to work outside the law, which has been twisted by President Lex Luthor, to try and save the world from the impact of a massive, radioactive meteor. When Lex Luthor is elected President of the United States, he begins assembling a team of superheroes on the government payroll. Not trusting his motivations, both Superman and Batman keep away from him. However, when the government discovers a massive kryptonite meteor coming towards Earth, he decides to seize the opportunity to kill multiple birds with the big stone. Luthor first sets up Superman, getting him to come to a meeting where he's attacked by the cyborg Metallo. Superman manages to escape, and Metallo is killed by an unknown assailant using massive quantities of radiation. Luthor frames Superman for the death, claiming the meteor's radiation is affecting him, and offers a bounty on the Man of Steel. Some big name metahumans show up to collect, most of them villains, but Superman and Batman prove too much for them. Then a team of heroes mops up the villains, but they've come to arrest both Batman and Superman. The duo escapes, along with Power Girl, who feels Luthor is up to something. The heroes break into STAR labs to find out what it was that killed Metallo, discovering the use of radiation as the weapon of choice. In the next encounter with the heroes Batman, using psychology, goads Major Force into admitting he killed Metallo. Power Girl his him hard enough to rupture his containment suit, and his energy must be absorbed by Captain Atom. Meanwhile Luthor, hopped up on kryptonite steroids, has lost his rationality, and has decided not to prevent the impact of the meteor, preferring to rule the ruins of Earth. With the aid of Tokyo's Toyman the Earth is saved, but Lex manages to escape justice.