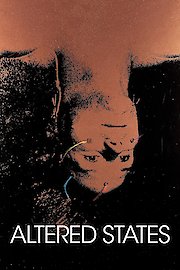 Watch Altered States
"A dream is the key that unlocks the mysteries of the waking world."
R
1980
1 hr 42 min
58
Altered States is a thought-provoking sci-fi/horror film from the 1980s that explores the human mind and consciousness. The movie follows the story of a brilliant but somewhat troubled scientist named Eddie Jessup, played by William Hurt. Jessup is deeply troubled by the state of human consciousness and wants to see if there is a way to unlock the secrets of the mind.
Jessup desperately wants to connect with the universe on a deeper level, so he decides to take a risky journey into the unknown. With the help of his colleague, Arthur Rosenberg (Bob Balaban), he experiments with powerful hallucinogens intended to take him into an altered state of consciousness. His long-term partner, Emily (Blair Brown), is skeptical about the impact of these experiments on her partner's health and tries to dissuade him from going too far.
Eddie quickly becomes consumed by his experiments and begins to experiment with more dangerous drugs. His experiments lead him to a breakthrough in his research, making him convinced that he has found a way to contact his primal self. When he enlists the help of Arthur to help him take his experiments to the next level, he introduces himself to a host of dangerous and bizarre hallucinations. He transforms his body and mind, and he begins to feel like he is merging with a primordial ooze.
As his experiments become more extreme, Eddie begins to behave erratically, and his colleagues and partner become increasingly alarmed at what they are witnessing. However, Eddie refuses to stop his experiments until he has discovered what he is looking for. When he disappears for a few hours, everyone on the research team is surprised when he reappears naked and covered in mud, claiming that he spent time in a caveman-era tribe.
Despite Eddie's alarming behaviour, the team continues with their experiments. Eddie embarks on his most dangerous trip yet, which takes him into a murky, hallucinogenic world where he must find his way back to reality. As his mind begins to unravel before him, he must find a way to control his thoughts, or risk losing himself forever.
The movie is a well-constructed exploration of consciousness and the human mind, and the concept of the self. The idea of the human experiencing multiple dimensions of consciousness and their connection with the universe is intriguing, and the movie explores these ideas in-depth.
The direction of the movie is exceptional, with the visuals of the hallucinations lending an eerie and unsettling atmosphere to the film. The special effects, while primitive for today's standards, are nonetheless impressive, with the distorted visuals and life-like primal transformations that make Eddie's exploration seem all too real. The use of sound and music also provides a heightened sense of foreboding and suspense, further accentuating the movie's horror element.
The actors, particularly William Hurt, deliver strong performances that give a sense of believability to the story. Hurt conveys an almost otherworldly sense of curiosity, demonstrating the character's intense fascination with the exploration of consciousness. The chemistry between Brown and Hurt is palpable, and their relationship provides an emotional anchor to the story.
Although the storyline and themes can be difficult at times to follow or understand, the movie is an impressive work of art, with excellent direction, sound, and acting. Altered States is a test of one's mind, taking viewers on an intriguing journey filled with imagery that is both grotesque and beautiful. The movie is both intellectual and visceral, with its themes still resonating within the sci-fi/horror genre today.
In summary, Altered States is a beautifully crafted, thought-provoking movie that explores the human mind, consciousness and the concept of self. The movie is a perfect balance of horror and science fiction, with some masterful performances from the actors, excellent direction, and captivating visuals. It allows us to consider the mind and consciousness' possibilities and limitations, creating a long-lasting impact on those who watch it.
Altered States is a 1980 horror movie with a runtime of 1 hour and 42 minutes. It has received moderate reviews from critics and viewers, who have given it an IMDb score of 6.9 and a MetaScore of 58.