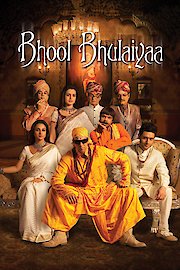 Watch Bhool Bhulaiyaa
"Enter at your own risk"
NR
2007
2 hr 39 min
This Indian horror mystery film debuted in 2007. It follows the character of Siddharth who has noble roots that trace back to a local king. Returning from America with a bride, he decides to settle down in his ancestral palace and is crowned the new king. When his new bride named Avni, goes to explore the mansion on her own, she uncovers a locked door that leads to a forbidden room. Undaunted, she opens the room and discovers something startling. From there, things start to take a turn for the worse. Rumors between friends and family spread that a curse has been unleashed. Is the palace really haunted?