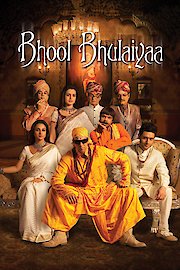 Watch Bhool Bhulaiyaa
"Enter at your own risk."
NR
2007
2 hr 39 min
Bhool Bhulaiyaa is a 2007 Indian horror-comedy movie directed by Priyadarshan and starring Akshay Kumar, Vidya Balan, and Shiney Ahuja in leading roles. The film is a remake of the Malayalam movie Manichitrathazhu, which was previously remade into several Indian languages. Dr. Aditya Shrivastav (Akshay Kumar) is a modern psychiatrist who is summoned by his childhood friend Siddharth (Shiny Ahuja) to evaluate his wife, Avni (Vidya Balan), who is experiencing strange hallucinations and distressing nightmares. To get to the root of the problem, Aditya and his team travel to Siddharth's ancestral palace in rural Rajasthan, where Avni has been living alone with her caretaker Gopal (Rajpal Yadav) since Siddharth left to work in America. At first, Aditya dismisses Avni's afflictions as mere psychological maladies, but he soon realizes that there is something sinister going on in the palace. He discovers that the palace is haunted by the ghost of its former royal resident, Rani Lakshmibai, who died under mysterious circumstances and whose spirit seeks revenge against her betrayers. To make matters worse, there is a history of mental illness in Siddharth's family, and many of his forefathers died insane. Aditya delves deeper into the palace's history and uncovers a dark secret from the past. The palace, it seems, was built on the ruins of a temple, and its construction involved the displacement of the local villagers and their deity, Lord Hanuman. The angry villagers cursed the palace and its occupants, and the spirits of the displaced deity and his devotees have haunted the palace ever since. As Aditya and his team try to exorcise the ghost that possesses Avni and the palace, they face several challenges and setbacks. They encounter unexpected twists, suspicious characters, and spooky incidents that keep them on edge. Aditya's own beliefs and logic are tested as he confronts the supernatural elements and unexplained phenomena inside the palace. Bhool Bhulaiyaa is a gripping movie that balances humor, drama, and horror in a unique way. It has a strong cast of talented actors who deliver nuanced performances. Akshay Kumar stands out as the witty yet empathetic protagonist, while Vidya Balan shines as the enigmatic and vulnerable Avni. Shiny Ahuja is effective in his portrayal of the haunted husband, and Rajpal Yadav provides comic relief as the bumbling caretaker. The movie also features an impressive soundtrack composed by Pritam and catchy songs like "Mere Dholna" and "Bhool Bhulaiyaa." The palace's intricate sets and visually stunning cinematography by Tirru add to the movie's overall appeal. The theme of mental illness and its stigmatization is sensitively handled, and the movie's message of embracing cultural heritage and history is relevant even today. Overall, Bhool Bhulaiyaa is a must-watch movie that keeps you engaged and entertained from start to finish. It combines genres and styles in a seamless manner and has something for everyone. Whether you are a fan of horror movies or not, this movie is sure to leave a lasting impression on you.