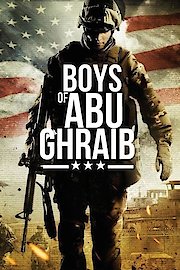 Watch Boys of Abu Ghraib
R
2014
1 hr 42 min
34
Boys of Abu Ghraib is a 2014 war drama film that centers around the brutal treatment of prisoners at the Abu Ghraib prison in Iraq during the Iraq War. The film follows the story of Jack Farmer, a newly deployed soldier who finds himself stationed at the notorious Abu Ghraib prison, where he and his fellow soldiers are tasked with interrogating and processing detainees.
Initially, Jack is eager to serve his country and do his duty, but as he witnesses the inhumane treatment of prisoners and becomes embroiled in the corruption and abuse of power at the prison, he begins to question the morality and legality of his actions.
As Jack navigates the complex social landscape of the prison, he forms a bond with a detainee named Ghazi, who he believes is innocent but has been imprisoned without trial. As Jack and Ghazi begin to converse, Jack starts to see the war from a new perspective, and the human cost of the war becomes all too apparent.
The film is a powerful exploration of the psychological impact of war on soldiers, and the subtle ways in which violence and trauma can corrupt the human psyche. The film does not shy away from the harrowing realities of war and the horrific abuse that took place at Abu Ghraib, but it also manages to find moments of humanity and compassion amidst the brutality.
Luke Moran gives a powerful performance as Jack, conveying both his initial enthusiasm for the war effort and his growing disillusionment with the military's methods. Sean Astin also delivers a nuanced performance as Staff Sergeant Tanner, Jack's superior officer, who is torn between loyalty to his country and his own moral compass.
Sara Paxton plays the role of Lynsey, Jack's love interest back home, who serves as a reminder of the life Jack left behind and the stark contrast between civilian life and the horrors of war.
Director Luke Moran does an excellent job of creating a visceral, immersive experience for the viewer, with stark visuals and intense, visceral scenes that capture the horror of the war. The film's score is also notable, with haunting, atmospheric music that creates an ominous and foreboding atmosphere.
Overall, Boys of Abu Ghraib is a powerful film that explores the dark underbelly of war and the complex psychological toll it takes on soldiers. Its commitment to realism and authenticity makes it a difficult watch at times, but ultimately, it is a compelling and thought-provoking film that raises important questions about the morality and ethics of war.
Boys of Abu Ghraib is a 2014 drama with a runtime of 1 hour and 42 minutes. It has received mostly poor reviews from critics and viewers, who have given it an IMDb score of 5.4 and a MetaScore of 34.