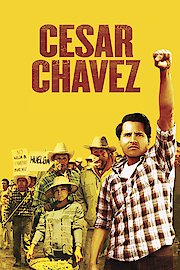 Watch Cesar Chavez
"History is made one step at a time."
PG-13
2014
1 hr 42 min
51
This biographical film explores both the public and private life of famed activist and labor leader Cesar Chavez, in his struggle to gain civil rights for Mexican farm workers in California. Special attention is paid to Chavez's role in the formation of United Farm Workers (UFW), the labor union that employed non-violent protest strategies in the face of brutal resistance from wealthy farming industrialists.
While the film chronicles the entire scope of Chávez's life as a labor organizer, the definite focus of the film is on his efforts in the Delano Grape Strike, which was a pivotal protest action for the UFW.
César Chávez's family relationships are depicted in this film using actual anecdotes provided by members of the Chávez family. The tension Chávez felt between spearheading a movement and being present in the lives of his wife and children is thoroughly explored.
Michael Peña (American Hustle, Million Dollar Baby) stars as César Chávez, and John Malkovich (Les Misérables, The Killing Fields) plays the role of Bogdanovich Senior, Chávez's fiercest adversary.
Cesar Chavez is a 2014 drama with a runtime of 1 hour and 42 minutes. It has received moderate reviews from critics and viewers, who have given it an IMDb score of 6.4 and a MetaScore of 51.