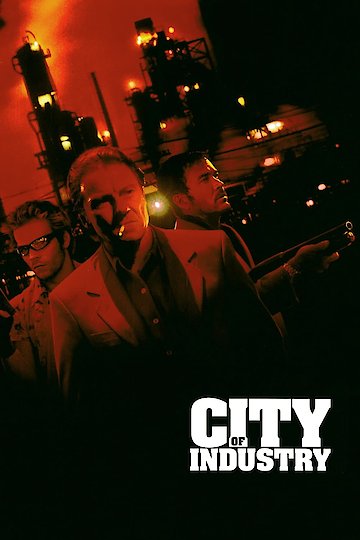 Watch City of Industry
"Wanting a man dead can be reason enough to live."
R
1997
1 hr 37 min
City of Industry is a 1997 crime thriller film, directed by John Irvin and starring Harvey Keitel, Stephen Dorff, Timothy Hutton, and Famke Janssen. The story follows four criminals who come together to execute a heist that goes unexpectedly wrong, leading them to turn on each other. The movie begins with Roy Egan (Keitel), a veteran thief who convinces his younger brother Lee (Dorff) to join him and two other criminals for a heist. The target is a jewelry company, and with Roy's experience, they plan to make a quick and profitable hit. However, the heist goes awry when a security guard unexpectedly resists them and the group is forced to kill him. This brings the attention of the police, who start investigating the crime.
The group escapes with the jewels, but tensions start boiling up between them. Lee, who initially joined the crew to make some money, becomes uneasy with the violent nature of the heist and wants to leave. However, Roy insists that they need to lay low and wait until the heat dies down before they can part ways.
Meanwhile, a mysterious figure known only as "the Man" starts hunting the group, apparently having some personal vendetta against them. He is played by a menacing Michael Jai White, who delivers a brief but memorable performance.
As the story unfolds, the criminals keep double-crossing each other, leading to several twists and turns. There are also some exciting action sequences, including a showdown at a hotel and a thrilling car chase. The movie has a dark and gritty tone, with well-realized characters that provide a deep exploration of the criminal underworld. The performances are all solid, with Keitel and Dorff stealing the show as the two brothers with different moral compasses.
Timothy Hutton plays a supporting role as Jorge, a Mexican criminal who is part of the crew. He brings a lot of authenticity to the role, including his accent and mannerisms. Famke Janssen also appears briefly as a stripper, who has a past with Lee and provides some emotional weight to the story.
The film's cinematography is excellent, with a lot of attention paid to lighting and shadows. The movie was shot mostly in Los Angeles, and the director makes great use of the cityscape. The score is also noteworthy, with a mix of rock and electronic music that complements the action scenes.
Overall, City of Industry is an underrated gem from the '90s that deserves more recognition. It's an intense and compelling crime thriller with a captivating storyline that keeps you engaged until the very end. The movie offers a realistic portrayal of the criminal underworld and features some fantastic performances, making it a must-watch for fans of the genre.
City of Industry is a 1997 thriller with a runtime of 1 hour and 37 minutes. It has received moderate reviews from critics and viewers, who have given it an IMDb score of 6.1.