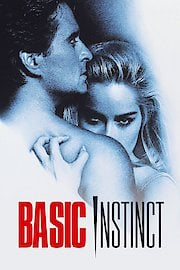 Watch Basic Instinct
"A brutal murder. A brilliant killer. A cop who can't resist the danger."
R
1992
2 hr 3 min
43
Basic Instinct is a 1992 erotic thriller directed by Paul Verhoeven and starring Michael Douglas, Sharon Stone, and George Dzundza. The film follows Detective Nick Curran (Douglas) as he investigates the brutal murder of a wealthy rock star, Johnny Boz. During the course of his investigation, Curran becomes involved with Catherine Tramell (Stone), a seductive novelist who seems to have a connection to the murder. As Curran delves deeper into Tramell's past and her latest work, a crime thriller that eerily mirrors the murder of Boz, he becomes increasingly obsessed with her. As Tramell toys with Curran and the police, the line between what is real and what is fiction blurs, leaving viewers uncertain of who is truly guilty. In addition to its captivating plot and steamy romance, Basic Instinct is notable for featuring one of the most iconic scenes in cinema history. One of the film's most memorable scenes involves Tramell's interrogation by the police, during which she uncrosses her legs and reveals that she is not wearing any underwear. This moment sparked controversy and scandal, becoming one of the most talked-about moments in cinematic history. The film also received critical acclaim for its performances, particularly from Sharon Stone, who earned international stardom and a Golden Globe nomination for her portrayal of Catherine Tramell. Michael Douglas also delivers a strong performance as the troubled Detective Curran, struggling with his own demons while trying to solve the case. Despite its success, Basic Instinct received criticism for its depiction of violence against women and its portrayal of bisexual characters. Some viewers also took issue with the film's ending, which leaves many questions unanswered. Overall, Basic Instinct remains a classic example of the erotic thriller genre, with a thrilling plot, memorable performances, and controversial moments that continue to spark discussion and debate. In conclusion, Basic Instinct is a provocative and suspenseful erotic thriller that explores the blurred lines between fiction and reality, guilt and innocence. With captivating performances from Michael Douglas and Sharon Stone, as well as a scandalous scene that has become a cultural icon, the film is a must-see for fans of the genre.