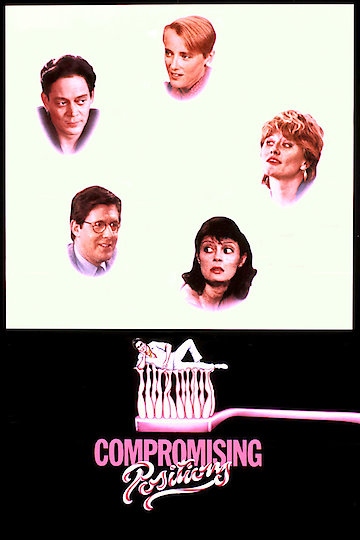 Watch Compromising Positions
"You're About to Find Out Why the Women of Shorehaven Would Rather Kill than Miss an Appointment with Dr. Bruce Fleckstein"
R
1985
1 hr 39 min
65
Compromising Positions is a dramatic thriller movie from 1985, directed by Frank Perry and starring Susan Sarandon, Raul Julia, and Edward Herrmann. The film tells the story of Judith Singer (Susan Sarandon), a Long Island suburban housewife and former journalist who becomes involved in the investigation of the murder of her neighbor, a dentist named Dr. Bruce Fleckner.
Judith is known for her column in the local newspaper in which she writes advice and commentary about relationships and sex. She is married to Bob Singer (Edward Herrmann), a lawyer, and they have two children. One day, Judith discovers that her neighbor, Dr. Fleckner, has been murdered. She was initially horrified by the news, but her curiosity is sparked when she realizes that the police have no clues or leads. Judith decides to investigate the murder herself, and she starts to look into Dr. Fleckner's life, beginning with his patients.
During her investigation, Judith meets David Suarez (Raul Julia), a private detective who was hired by one of Dr. Fleckner's patients. David is also interested in solving the murder and the two begin to work together. As they investigate, they find out that Dr. Fleckner was a philanderer who had many affairs with his female patients. They also start to uncover other secrets, including evidence of corruption and cover-ups involving people in the community.
As Judith and David continue their investigation, they begin to develop feelings for each other. Judith starts to question her own marriage and life choices, while David tries to convince her to let go of her obsession with the case. However, as they get closer to the truth, their lives become in danger and they have to race against time to find the killer before it's too late.
Compromising Positions is a suspenseful movie that combines elements of drama, comedy, and mystery. The film explores themes of relationships, infidelity, corruption, and the search for truth. It also features strong performances by Sarandon, Julia, and Herrmann, who bring depth and complexity to their characters. The movie has a strong sense of atmosphere, capturing the affluent and somewhat superficial world of Long Island suburbia and contrasting it with the dark secrets that lie beneath the surface.
Overall, Compromising Positions is an engaging and well-crafted movie that keeps the audience on the edge of their seats until the very end. It showcases the talents of its cast and director and presents a compelling story that leaves a lasting impression.