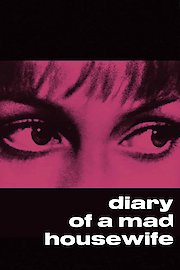 Watch Diary of a Mad Housewife
"I, Tina Balser, Housewife, Did Not Do My Chores Today. I Did...Something Else!"
R
1970
1 hr 44 min
"Diary of a Mad Housewife" is a 1970 American comedy drama film directed by Frank Perry, written by Eleanor Perry, and starring Carrie Snodgress, Richard Benjamin, and Frank Langella. Tina Balser is a frustrated, bored wife and mother trapped in a loveless marriage with Jonathan, a career obsessed, abusive man. Constantly belittled and insulted by her husband, Tina hopes to find relief when she begins an affair with a writer and attempts therapy.