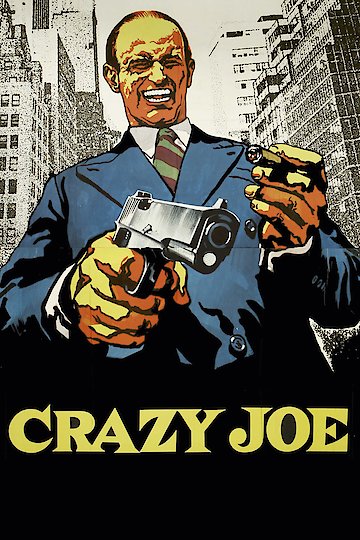 Watch Crazy Joe
"No killer of the streets ever gave it or got it like Crazy Joe!"
R
1974
1 hr 40 min
Crazy Joe is a 1974 American crime drama film directed by Carlo Lizzani and starring Peter Boyle in the title role of Joe Gallo, a notorious gangster in New York City during the 1960s and 70s. The film is based on the real-life exploits of Gallo, who led one of the city's most violent and feared crime families. The movie begins with a young Joe Gallo in prison, where he is introduced to the world of organized crime by his cellmate. Upon his release, Joe becomes a member of the Profaci crime family, which is headed by boss Joe Colombo (played by Fred Williamson). Joe quickly rises through the ranks and becomes a feared and respected enforcer for the family. However, he has ambitions of his own and begins to plot his own rise to power.
Joe's ultimate goal is to take over the entire Profaci crime family and become the top boss. Along the way, he meets and falls in love with Diane (played by Paula Prentiss), a beautiful and intelligent woman who disapproves of his criminal lifestyle. Despite her objections, Joe continues to pursue his dreams, leading to a dangerous and bloody conflict with the rest of the organized crime world in New York City.
As the title suggests, Crazy Joe is a gritty, violent film that pulls no punches in its portrayal of the brutal world of organized crime. Peter Boyle gives a powerful performance as Gallo, capturing the character's intense rage, cunning intelligence, and pathological need for power. Paula Prentiss is equally impressive as Diane, providing a strong counterpoint to Joe's violent tendencies and bringing a necessary touch of humanity to the film.
The supporting cast is also excellent, with Fred Williamson bringing his trademark coolness to the role of Joe Colombo and a host of character actors filling out the rest of the criminal underworld. The film's look and feel are very much of their time, with a grungy, low-budget aesthetic that lends a sense of authenticity to the proceedings.
One of the most striking aspects of Crazy Joe is the way it blends fictionalized elements with real-life events and people. Many of the film's characters and plot points are drawn from the actual history of the Gallo crime family, making it a fascinating glimpse into a dark chapter of New York City's past. The movie also takes a somewhat sympathetic view of Joe Gallo, portraying him as a complex, multi-dimensional figure rather than a one-dimensional villain.
Overall, Crazy Joe is a gripping and intense crime drama that will appeal to fans of the genre. Its brutal violence and bleak outlook may not be to everyone's tastes, but it is an undeniably effective portrait of a dangerous and fascinating world. Peter Boyle's performance is the heart of the film, and it stands as one of the best of his career. If you're a fan of gritty crime movies, Crazy Joe is definitely worth checking out.
Crazy Joe is a 1974 crime movie with a runtime of 1 hour and 40 minutes. It has received moderate reviews from critics and viewers, who have given it an IMDb score of 6.2.