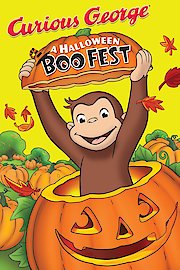 Watch Curious George: A Halloween Boo Fest
"Get ready for a spook-tacular good time with Curious George - in his first-ever Halloween movie. This fun-filled adventure is a bewitching treat for the whole family!"
Curious George: A Halloween Boo Fest is a 2013 animated family film directed by Scott Heming and produced by Universal 1440 Entertainment. The movie stars Frank Welker as the voice of Curious George, Jeff Bennett as The Man with the Yellow Hat, Rino Romano as Hundley the Doorman, and Carlos Alazraqui as Professor Wiseman. The film is based on the classic children's book character created by H.A. Rey and Margret Rey. The story follows Curious George and his friend, The Man with the Yellow Hat, as they prepare for their annual Boo Festival at the zoo. The festival is a Halloween-themed celebration filled with spooky decorations, costumes, and games for all the animals to enjoy. George and The Man with the Yellow Hat are excited to participate in the festivities, but things quickly go awry when they discover that some of the decorations are missing. Determined to find out what happened, George and The Man with the Yellow Hat set out on a quest to solve the mystery. Along the way, they encounter their friends Hundley the Doorman and Professor Wiseman. Hundley, who is working as the head of security for the Boo Festival, is trying to maintain order and keep the animals safe. Professor Wiseman, on the other hand, is conducting research on the zoo's paranormal activity and believes that the missing decorations might be the result of a ghost haunting the zoo. As George and his friends continue their investigation, they uncover clues that lead them on a wild adventure through the zoo's many exhibits. They ride on a ghost train, navigate a haunted maze, and even encounter a real ghost! Through it all, George's infectious curiosity and his uncanny ability to solve problems help him and his friends get to the bottom of the mystery and save the Boo Festival. Curious George: A Halloween Boo Fest is a fun and lighthearted story that is perfect for children and families to enjoy. The film emphasizes the importance of creativity, teamwork, and problem-solving, all of which are core values that are central to the Curious George character. The animation is bright and colorful, with plenty of spooky elements to keep viewers entertained throughout the movie. The voice acting is also impressive, with each character bringing a unique personality to the screen. Overall, Curious George: A Halloween Boo Fest is an entertaining and educational movie that is sure to delight viewers of all ages. With its upbeat tone, charming characters, and engaging story, it's a perfect choice for families looking for a fun and lighthearted way to celebrate Halloween.