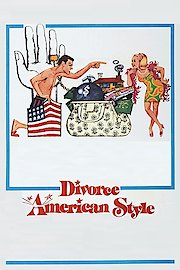 Watch Divorce American Style
"If you thought divorce was ugly, try marriage!"
Approved
1967
1 hr 49 min
Divorce American Style is a 1967 comedy film that explores the effects of divorce on a suburban family. Directed by Bud Yorkin, the movie highlights the social issues that play a major role in American society during the 1960s, particularly that of the high divorce rate. The film follows the life of the Harmon family, who seem to be the perfect American family. Dick Van Dyke, who plays the role of Richard Harmon, is a successful advertising executive, married to his loving wife Barbara, excellently played by Debbie Reynolds. Harold, played by Jason Robards, is Barbara's friend and Richard's neighbor, an unhappy lawyer who lives a lifeless existence with his wife. The story begins with the Harmon couple, who has been together for over 17 years, attending a seminar on the topic of how to improve their marriage. Despite their efforts, they realize that they have grown apart and decide to separate.
While the couple is determined to separate amicably, things get complicated when they start sharing their thoughts and feelings with their respective attorneys. The lawyers, who are more concerned with their fees than their client's interests, start manipulating them and turning them against each other. As a result, Richard and Barbara find themselves in a bitter legal battle that quickly escalates into a war of words and actions.
Throughout the film, the Harmon family's situation is juxtaposed with that of their neighbors, the Bateman family. The Batemans experience a divorce as well, but unlike the Harmons, their separation is amicable, and they remain friends through the entire process. This difference in mindset is a commentary on the idea of traditional family values prevalent during the time of the film's release.
The film provides a unique view of life in the 1960s, where the culture of divorce was still a relatively new concept. It highlights the effects of divorce on children and the different reactions to it as well. The Harmons' eldest son, played by Tim Matheson, struggles to come to terms with their separation and is torn between his mother and father's loyalty. Meanwhile, their younger son, played by Gary Goetzman, is more preoccupied with his hobbies and has a rather indifferent attitude towards their divorce.
Divorce American Style also explores the effects of societal pressures and expectations on marriages. It depicts the expectations of a woman's role in marriage, and how these expectations contribute to dissatisfaction and unhappiness in the relationship. The pressure to be a perfect wife and homemaker took its toll on Barbara, who, despite her love for Richard, felt the need to separate and find her own identity.
The movie is not just a commentary on the culture of divorce in the 1960s, but also a sharp critique of how the legal system handles such cases. It highlights the adversarial nature of divorce proceedings and the monetary gains lawyers derive from them. The film shows how lawyers encourage acrimony and discord between couples to lengthen the proceedings and make more money.
Adding to the film's humor is a running gag that involves a group of divorcees meeting periodically to discuss their experiences. These meetings provide a glimpse into the lives of those who've been through similar experiences and the different ways they handle their new lives.
In conclusion, Divorce American Style is a witty and insightful commentary on American society's complex relationship with marriage and divorce. The excellent performances by the cast and Yorkin's direction make this 1967 film a must-watch. It provides as much entertainment as it does food for thought, and is still relevant today as it was over five decades ago.
Divorce American Style is a 1967 comedy with a runtime of 1 hour and 49 minutes. It has received moderate reviews from critics and viewers, who have given it an IMDb score of 6.3.