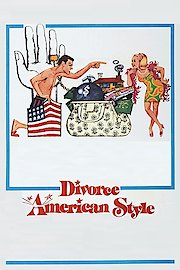 Watch Divorce American Style
"If you thought divorce was ugly, try marriage!"
Approved
1967
1 hr 49 min
A satirical comedy starring Dick Van Dyke and Debbie Reynolds examines husband and wife who divorce after 17 years of marriage. Van Dyke finds himself living in a small apartment will little disposable income for himself. His alimony payments are gutting his income. Van Dyke wants to marry another women, but he's thrown into a nightclub scene with his former wife Reynolds who is on a date. When she's on stage and hypnotized, she's told to kiss the man she loves. In her trance, she kisses Van Dyke.