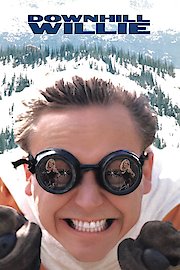 Watch Downhill Willie
"Heroism needs an imbecile"
PG-13
1997
1 hr 29 min
Downhill Willie is a 1996 adventure-comedy-drama movie directed and co-written by Harry Bromley Davenport. The film follows the story of Willie, a young and adventurous ski enthusiast who loves nothing more than spending his time skiing down the slopes of the mountains. However, his life takes an unexpected turn when he learns that his father, with whom he has had a troubled relationship, has passed away, and he is now forced to take over his father's skiing resort. Willie, played by Keith Coogan, is a carefree and energetic person who loves skiing more than anything else. He spends his days skiing with his friends and experimenting with new stunts, but he doesn't seem to have much ambition beyond that. His father, played by David Warner, is a stern and authoritarian figure who wants Willie to take over the family business, but Willie rebels against his father's wishes and refuses to take any responsibility. However, everything changes when Willie receives a call from his mother informing him that his father has died unexpectedly. Although initially devastated by the news, Willie slowly realizes that he must now take on his father's responsibilities and run the family business, the ski resort of Snow Mountain. As he tries to cope with this new reality, he discovers that the resort is in financial trouble, and he is forced to make some tough decisions to keep it running. One of his first priorities is to hire a new ski instructor, which is when he meets Megan, played by Staci Keanan, who is a beautiful and competent skier. Although the two initially clash, they soon find themselves working together to save the resort. Megan becomes a crucial ally for Willie, and together, they come up with creative ideas to attract more customers to the resort. However, their hard work is constantly threatened by Willie's father's nemesis, Randy Briggs, played by Lochlyn Munro, who is the owner of a rival ski resort. Briggs is a conniving and ruthless businessman who will stop at nothing to ruin Willie's plans and drive him out of business. His attempts to sabotage Willie's efforts become increasingly desperate, forcing Willie to take extreme measures to protect his business and his future. As the movie progresses, Willie learns some important life lessons about responsibility, hard work, and the importance of family. He gains a new perspective on life and discovers that there is more to it than just having fun and being carefree. He also discovers the value of true friendship and the importance of working together to achieve a common goal. Overall, Downhill Willie is an entertaining and heartwarming movie that combines adventure, drama, and comedy in a unique and engaging way. It is a story about growing up, taking responsibility, and finding one's place in the world. With excellent performances by its cast and a compelling story, this movie is a must-watch for anyone who loves skiing, adventure, or just a good old-fashioned coming-of-age tale.