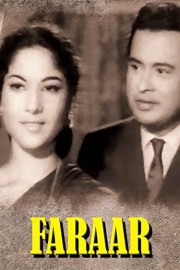 Watch Faraar-1965
NR
1965
2 hr 17 min
Faraar-1965 is a thrilling Bollywood movie filled with action, drama, and suspense. Directed by Pinaki Mukherji and starring Anil Chatterjee, Balraj Sahni, and Shabnam, the movie takes the audience through a rollercoaster ride of emotions. The story revolves around the character Kailash (Anil Chatterjee), a man who is wrongfully accused of murder and goes on the run to clear his name. The police are hot on his trail, and Kailash must evade them while he uncovers the truth behind the crime he has been accused of. Along the way, he meets a group of outlaws who help him in his quest for justice.
Balraj Sahni plays the role of a police inspector who is relentless in his pursuit of Kailash. He is determined to catch him and bring him to justice, even if it means killing him in the process. Shabnam plays the role of a woman who is caught up in the midst of this battle between Kailash and the police.
The movie is set against the backdrop of rural India, and the scenes are beautifully shot to capture the essence of life in a small town. The director succeeded in portraying the society's corrupt and cruel nature, where justice is often biased in favor of the powerful.
The movie's music is composed by Hemant Kumar, and the songs are melodious and soulful. The title track "Faraar" is a haunting melody that perfectly captures the mood of the movie. Other notable songs include "Main Jaan Gayi Tujhe Saiyan," "Dil Mein Jo Baat Hai Keh Do," and "Chhod Kar Teri Duniya."
Anil Chatterjee delivers a brilliant performance as Kailash, the man who is forced to leave his loved ones behind and go on the run. He portrays the character's anguish and frustration perfectly, and the audience can sense his desperation to clear his name. Balraj Sahni is exceptional as the police inspector, with his steely eyes and unwavering determination making him a formidable opponent.
Shabnam's performance is somewhat limited compared to the male leads, but she manages to hold her own. Her role as the woman caught between Kailash and the police is crucial to the plot, and she plays it with grace and subtlety.
One of the movie's highlights is its fast-paced action scenes, which are choreographed expertly. The fight scenes are intense and thrilling, with the audience left on the edge of their seats wondering who will emerge victorious.
Overall, Faraar-1965 is a must-watch movie for fans of Bollywood cinema. Its gripping storyline, excellent performances, and beautiful music make it a classic that stands the test of time.
Faraar-1965 is a 1965 drama with a runtime of 2 hours and 17 minutes. It has received mostly positive reviews from critics and viewers, who have given it an IMDb score of 6.9.