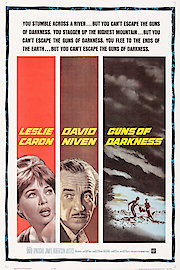 Watch Guns of Darkness
Approved
1962
1 hr 42 min
Guns of Darkness is a 1962 British drama film, directed by Anthony Asquith and starring Leslie Caron, David Niven, and James Robertson Justice. The movie is set in an African country, where a civil war is raging between the government forces and the rebels. In the midst of this conflict, an English engineer, Charles Warkland (David Niven) is sent to build a dam in the rebel-held territory. He is accompanied by his wife Joanna (Leslie Caron) and his contractor, Douty (James Robertson Justice).
Despite the danger and tense political situation, the work goes ahead. However, as time passes, tensions increase and it becomes clear that the situation is getting out of hand. The rebels become more aggressive towards the engineers, refusing to allow them to leave their camp. The arrival of a British military unit and a mercenary helicopter pilot further complicates the situation. As the conflict reaches its climax, the characters are faced with impossible choices.
Leslie Caron gives a strong performance as Joanna, a confident and capable woman who tries to keep a sense of normality in the face of extraordinary circumstances. She is torn between her loyalty to her husband and her growing sympathy for the rebels, who she sees as fighting for a just cause. David Niven, as Charles, is equally impressive, portraying the engineer as a man who is committed to his work but also aware of the political realities of the situation. His loyalty to his wife is tested as he faces the dilemma of whether to stay and complete the project or leave and protect his family from the dangers of the civil war.
James Robertson Justice plays the role of the contractor, Douty, with his trademark wit and belligerence. He adds a touch of humor to the film, but also serves as a reminder of the harsh realities of life in a war-torn country. He is constantly at odds with Charles, but the two find a grudging respect for each other as they face the dangers together.
The film is shot on location in Africa, which adds to the authenticity of the story. The landscape is spectacular, with vast open spaces and rugged terrain providing a backdrop to the characters' struggles. The scenes of the civil war are intense and realistic, showing the brutality of the conflict and the suffering of the ordinary people caught up in it.
Overall, Guns of Darkness is a riveting drama that explores complex issues of loyalty, morality, and survival in a time of war. The characters are well-drawn and the performances are strong, making it a compelling watch. The film is not without its flaws, however, as some of the plot developments feel contrived and the pacing can be a little slow at times. Nevertheless, it is a well-crafted piece of cinema that deserves to be remembered as a classic of its genre.