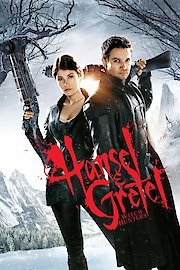 Watch Hansel and Gretel: Witch Hunters
"Classic tale. New twist."
R
2013
1 hr 28 min
23
Hansel and Gretel: Witch Hunters is a fantasy action movie released in 2013, directed by Tommy Wirkola, and starring Jeremy Renner and Gemma Arterton in the titular roles. The movie is inspired by the classic German fairy tale, Hansel and Gretel, and follows the famous siblings as they continue their adventures as professional witch hunters.
The movie begins with a brief flashback to the siblings' childhood, showcasing the unforgettable scene of Hansel and Gretel being taken to the forest by their parents and abandoned. The siblings then follow the trail of candy, ultimately stumbling upon a witch's home. After a gruesome encounter with the witch, they manage to outsmart and kill her, thus beginning their path as witch hunters.
Years later, Hansel and Gretel have made a name for themselves in the town of Augsburg, where they are hired by the mayor to find and kill a particular witch that has been terrorizing the town's children. Upon arrival, they soon discover that there's more to the witch than they thought and stumble upon a much larger plot involving a coven of witches who plan to use the blood of children to unleash a powerful spell.
Along with the help of their ally, the fanatical sheriff Berringer (Peter Stormare), the siblings set out to rid the town of the witch menace once and for all. They also encounter a white witch named Mina, played by Pihla Viitala, who instantly catches Hansel's attention.
The story progresses as the siblings engage in numerous battles with the witches, using their advanced weapons and training to fight effectively. The movie combines fantasy and action elements as the duo builds up to the final climax, where the ultimate battle between witches and witch hunters takes place in Augsburg's town hall.
Hansel and Gretel: Witch Hunters brings a fresh twist to the original fairy tale and features a unique take on historical lore, introducing modernized witchcraft and technology that fit seamlessly together. The amazing CGI effects make the action scenes entirely immersive, with plenty of elements of gore and violence to complement the narrative.
One of the movie's most apparent aspects is the banter between the siblings, with their close relationship and humor sprinkled throughout the film. Gretel is portrayed as a strong and independent woman, perfectly complemented by Hansel's brute strength yet carefree personality.
Jeremy Renner and Gemma Arterton do justice to their roles, showcasing their impressive acting skills throughout. The addition of the villainous head witch, Muriel, played by Famke Janssen, adds an extra layer of complexity to the story, leading up to a satisfying conclusion.
Overall, Hansel and Gretel: Witch Hunters is an exciting and action-packed movie that delivers a perfect blend of fantasy and horror genre. It's a brilliant retelling of the classic fairy tale, offering a unique take that will keep viewers engaged and entertained throughout.
Hansel and Gretel: Witch Hunters is a 2013 fantasy movie with a runtime of 1 hour and 28 minutes. It has received poor reviews from critics and viewers, who have given it an IMDb score of 6.1 and a MetaScore of 23.