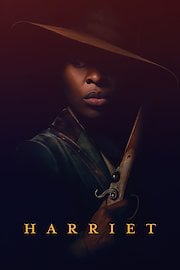 Watch Harriet
"Be free or die"
PG-13
2019
2 hr 5 min
66
Harriet is a biographical drama film directed by Kasi Lemmons that tells the incredible true story of Harriet Tubman and her journey to freedom. Cynthia Erivo stars as Tubman, the iconic abolitionist and Underground Railroad conductor who escaped slavery and risked her life to lead hundreds to freedom in antebellum America. The film opens in 1849 on a plantation in Dorchester County, Maryland where we meet Araminta "Minty" Ross, a young slave woman who suffers cruel treatment at the hands of her masters. She endures immense hardship but finds comfort in her Christian faith and powerful visions that convince her she is destined for freedom. When her owner dies in 1851, Minty learns she and others are to be sold, so she decides to flee north alone, leaving her husband behind. After a harrowing 100-mile journey on foot, she finally makes it across the state line to Pennsylvania and freedom.
Now calling herself Harriet after her mother, she settles in Philadelphia and finds work, but is torn about leaving her loved ones in bondage. A vision renews her calling, compelling her to become a conductor on the Underground Railroad, helping other slaves escape to the North. In 1852, Harriet risks capture and death by returning to Maryland to rescue her husband, but discovers he has remarried. Undeterred, she starts bringing more slaves to freedom, becoming legendary among her people as a "Moses" who never fails.
Harriet forges important alliances with abolitionists like Marie Buchanon and William Still who aid her dangerous missions. She evades capture time and again using disguises, clever misdirection and relying on her wit. The film depicts her leading numerous escapes from Maryland over 11 years, including a daring river crossing with a group of slaves pursued by armed men. Despite a bounty on her head, Harriet won't stop until slavery is abolished.
Janelle Monáe appears as Marie, a free black woman who offers Harriet shelter and joins her fight, while Leslie Odom Jr. plays William Still. The cast also includes Joe Alwyn, Jennifer Nettles and Clarke Peters. With moving spirituals underscoring pivotal moments, the film brings to life Harriet Tubman's incredible courage and perseverance during one of the darkest times in American history.
Harriet premiered at the Toronto International Film Festival in 2019 to positive reviews, with praise for Cynthia Erivo's powerful lead performance. Her emotional portrayal captures Tubman's steely determination as well as her humanity. Harriet went on to earn several accolades including nominations for two Academy Awards. Director Kasi Lemmons crafts a gripping and awe-inspiring portrait of an American icon and delivers an important story of strength that still resonates today.
Harriet is a 2019 drama with a runtime of 2 hours and 5 minutes. It has received mostly positive reviews from critics and viewers, who have given it an IMDb score of 6.7 and a MetaScore of 66.