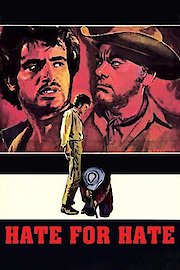 Watch Hate For Hate
"Deceit and revenge in the Wild West!"
NR
1967
1 hr 31 min
Hate For Hate is a captivating spaghetti western movie that takes place in the late 1800s in the American Wild West. The movie was directed by the legendary Italian director, Domenico Paolella, and released in 1967. The plot centers around Johnny, played by Antonio Sabato, a former gunslinger who has just been released from prison after serving a sentence for a crime he didn't commit. His release is met with mixed reactions, as some people in town believe that he is an innocent man, while others suspect that he may go back to his old ways.
As Johnny tries to integrate back into society, he finds himself in the middle of a conflict between two rival groups. A family of homesteaders has been living on a piece of land that they believe they rightfully own, but a gang of ruthless and violent outlaws, led by the sadistic Morgan, played by Mirko Ellis, are determined to take it from them.
The violence and brutality of the outlaws have forced the homesteaders to take up arms to defend themselves, and they seek the help of a tough former Confederate soldier, Tom, played by the legendary John Ireland. Johnny, who is looking to turn over a new leaf, gets caught up in the ongoing feud when he falls in love with Nancy, a young woman who is also fighting to protect her family's property.
As tensions rise, Johnny finds himself forced to confront his inner demons as he deals with the ghosts of his past, while at the same time trying to protect the people he has grown to care for. With guns blazing and bullets flying, the movie takes viewers on a thrilling journey filled with action, suspense, and betrayal.
The film is a classic example of the spaghetti western genre, characterized by its unique style and gritty and violent portrayal of life at the frontiers of civilization. The cinematography by Alejandro Ulloa captures the breathtaking landscapes of the Wild West, adding an extra layer of realism to the movie.
The performances of the lead actors are also noteworthy. Antonio Sabato delivers a strong performance as a man torn between his desire for redemption and his violent past. John Ireland is equally impressive as the tough-as-nails former soldier, Tom, who is always ready to follow his principles, no matter the cost.
Mirko Ellis, as the sadistic Morgan, brilliantly portrays the film's main antagonist, exuding an aura of menace that makes him a formidable opponent for the homesteaders. Although a relatively unknown actor, he shines in the role, cementing his place in the annals of spaghetti western history.
In conclusion, Hate For Hate is a must-see movie for fans of the spaghetti western genre. The film's gripping plot, memorable performances, and striking cinematography make it a classic of its era. With its themes of redemption, honor, and justice, the movie is an entertaining and thought-provoking tale that will leave viewers on the edge of their seats.
Hate For Hate is a 1967 western with a runtime of 1 hour and 31 minutes. It has received moderate reviews from critics and viewers, who have given it an IMDb score of 5.7.