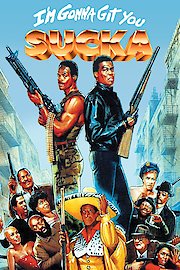 Watch I'm Gonna Git You Sucka
"It's Tough To Be A Black Hero."
R
1988
1 hr 28 min
48
I'm Gonna Git You Sucka is a 1988 action-comedy film directed by and starring Keenen Ivory Wayans, known for its spoof of the Blaxploitation genre popular in the 1970s. The movie features an ensemble cast of comedic actors including Bernie Casey, Antonio Fargas, Isaac Hayes, Damon Wayans, and Jim Brown. The premise of the film is centered around its main character, a former soldier named Jack Spade (played by Keenen Ivory Wayans) who returns to his old neighborhood after his brother, Junebug (played by comedian Chris Rock in his film debut), is killed by a drug overdose. Upon discovering that his hometown is overrun by criminals peddling drugs and other illegal activities, Jack decides to take the law into his own hands and become a vigilante.
Along the way, Jack recruits a group of former Blaxploitation stars to help him in his mission, including Hammer (played by Isaac Hayes), Flyguy (played by Steve James), and Slammer (played by Jim Brown). Together, they take on the villainous Mr. Big (played by Bernie Casey), a drug kingpin who controls the city's criminal underworld.
The film is packed with humor, adventure, and a healthy dose of social commentary. It pokes fun at the clichés and stereotypes that were prevalent in the Blaxploitation genre, while at the same time celebrating the legacy of those films and the actors who starred in them. From the exaggerated costumes and larger-than-life characters to the funky soundtrack and hilarious one-liners, I'm Gonna Git You Sucka pays tribute to the genre while also subverting it.
One of the standout performances in the film is that of Antonio Fargas, who plays the flamboyant pimp, Flyguy. Fargas' performance is over-the-top and campy, which adds to the film's overall comedic tone. His character is a parody of the "superfly" pimp archetype popularized in Blaxploitation films such as Super Fly and The Mack.
Another memorable aspect of the film is its use of celebrity cameos. Throughout the movie, several famous actors and musicians make appearances, including Clarence Williams III, Kadeem Hardison, and Damon Wayans. There's even a surprise appearance by legendary musician and actor, James Brown, who performs a musical number during a fight scene.
Overall, I'm Gonna Git You Sucka is a fun and entertaining film that successfully satirizes the Blaxploitation genre while also paying homage to it. With its talented cast, catchy soundtrack, and hilarious humor, it's a must-see for fans of comedy and action alike.
I'm Gonna Git You Sucka is a 1988 comedy with a runtime of 1 hour and 28 minutes. It has received mostly poor reviews from critics and viewers, who have given it an IMDb score of 6.6 and a MetaScore of 48.