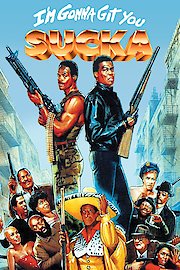 Watch I'm Gonna Git You Sucka
"It's Tough To Be A Black Hero."
R
1988
1 hr 28 min
48
The 1988 film 'I'm Gonna Git You Sucka' is burlesque sendup of 1970's ear Blaxploitation films. The film stars Keenen Ivory Wayans who plays the part of Jack Spade a soldier who returns from duty to discover that his brother 'June Bug' had died from an overdose of gold chains. Jack decides to seek revenge for the death of June Bug by declaring a turf war against 'Mr. Big' (played by actor John Vernon), the area crime lord whom Jack assumes is responsible for his brother's death. Jack connects Mr. Big and his dead brother when he learns that Mr. Big has been putting a lot of gold out on the street. To help him extract his revenge Jack obtains help from a childhood friend turned local vigilante with the name of John Slade (Bernie Casey) to help him sweep Big's henchmen from the streets, and put an end to the gold chain trade in his neighborhood. Slade contacts some of his old friends to tag along and lend him a hand with the dirty work. Of course, these men are played by actors who made Blaxploitation movies famous in the first place. Game for action, the crew are older now and are not as fast as they once were. They often complain to each other that their feet hurt. There are many gags in this movie that employ racial stereotypes. In one scene Chris Rock plays a customer that enters a BBQ restaurant staffed by a character played by the actor Isaac Hayes to ask if he can order one rib. The conclusion of the film has Jack's gang bombing retail gold stores around town believed to be controlled by Mr. Big in order to flush him out. Big puts pressure on the Chief of police to capture the gang and stop it. Corrupt officers pursue Jack in order to jail him on trumped up charges. Instead of being caught, Jack discovers Big's secret lair and destroys it.