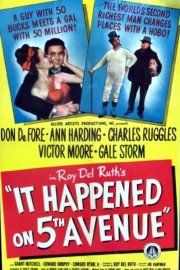 Watch It Happened on Fifth Avenue
"It's 1947's Richest Comedy!"
Passed
1947
1 hr 59 min
66
Each Christmas, an industrial tycoon and his family travel from New York City to Florida to spend the holiday season in the sun, and while they are gone, a philosophical homeless man takes up residence in the millionaire's Fifth Avenue mansion. When the real homeowner's daughter returns to NYC early and discovers the house has been taken over, the homeless haven is in danger of disappearing forever.