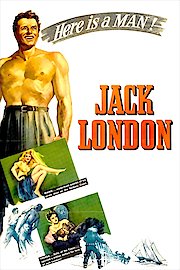 Watch Jack London
"He is a man!"
Approved
1943
1 hr 34 min
Jack London, released in 1943, is a biographical drama film that portrays the life of world-renowned American novelist and short-story writer Jack London. The film chronicles London's journey from his early days in Oakland, California, to his rise to fame as one of the most successful writers of his time. The story follows young Jack (played by Michael O'Shea), who is shown as a rebellious teenager striving to find his true calling in life. He recognizes his passion for writing and decides to become a writer. However, his father, who works as a hardworking laborer, scorns his dreams and wants him to follow in his footsteps. Despite his father's pressure, Jack stays determined and pursues his passion.
Jack travels to Alaska in search of inspiration for his writing and finds himself in a world of hardship, which he eventually overcomes. He experiences the harsh conditions faced by the miners and the indigenous people of Alaska and remains undaunted, using his experiences to fuel his creative abilities.
As he gains recognition for his writing, he meets and falls in love with his future wife, Charmian Kittredge (played by Susan Hayward), who becomes his lifelong companion and eventually helps him become the success that he was. The duo experiences many challenges, both from society and their own personal lives, but they remain steadfast in their pursuit of true love and literary greatness.
The film also showcases the many political and social issues of the time, highlighting London's activism in supporting unions and fighting for workers' rights.
Throughout the journey, we see how Jack's experiences mold him into a man whose words would eventually inspire generations to come. His stories of adventure and the struggles of life eventually make him one of the most respected and prolific writers of his time.
The film's storyline is enhanced by the excellent performances of the lead actors. Michael O'Shea as Jack London delivers a captivating performance, portraying the complexity of London's character with ease. As Charmian, Susan Hayward's acting is brilliant, bringing a level of depth to the character that does justice to the real-life woman's unwavering support of Jack. Osa Massen, as Mamie, a prostitute who befriends Jack, leaves a lasting impression on the audience with her sincere and emotional portrayal of the character.
The cinematography and the settings in Jack London add to the film's authenticity, perfectly capturing the rugged beauty of Alaska's natural beauty depicted in the story.
Overall, Jack London is a gripping tale of resilience and determination, showcasing how one man's desire to follow his passion can lead to greatness. The movie entertains and educates viewers on the life of one of America's greatest writers, making it a must-watch for fans of biographical dramas.
Jack London is a 1943 drama with a runtime of 1 hour and 34 minutes. It has received moderate reviews from critics and viewers, who have given it an IMDb score of 5.1.