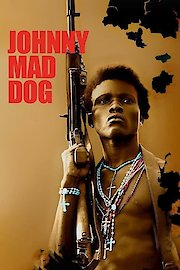 Watch Johnny Mad Dog
2008
1 hr 34 min
45
Johnny Mad Dog is a gritty and intense drama from 2008, set in a war-torn African country where child soldiers are recruited to fight in a senseless conflict. The film is directed by Jean-Stéphane Sauvaire and stars a cast of young, mostly inexperienced actors. At the heart of the film is the character of Johnny Mad Dog, played by Christophe Minie. Johnny is a teenage soldier who is feared and revered by his fellow fighters. He is a ruthless and brutal soldier, willing to do whatever it takes to win the war. But he is also struggling with his own demons, haunted by memories of the violence he has witnessed and participated in.
The film is set in a unnamed African country where two factions are engaged in a civil war. Johnny is part of a group of young soldiers who have been recruited to fight for one of the factions. They are armed with AK-47s and given drugs to numb their senses and make them more aggressive. These child soldiers have been brainwashed into believing that they are fighting for a just cause, but the reality is far more complicated.
As the film unfolds, we see the horrors of war from the perspective of these child soldiers. They loot, kill, and rape with impunity, believing that they are immune from prosecution because of their youth. But as the war intensifies and the stakes get higher, their loyalties are tested and their humanity is called into question.
One of the central themes of the film is the idea of innocence lost. The child soldiers in the film are portrayed as victims of circumstance, forced into a life of violence and brutality by their surroundings. But as they dig deeper into that existence, their innocence is stripped away piece by piece until there is nothing left but a cold, merciless killing machine.
The performances in Johnny Mad Dog are exceptional, particularly given that most of the actors had never acted before. Christophe Minie, who plays the titular character, is particularly impressive. He commands the screen with a raw intensity, portraying a complex and conflicted character who is at once terrifying and sympathetic.
The film is shot in a documentary style, with handheld cameras and natural lighting. This gives the film a claustrophobic and intense feel, as if the audience is right in the middle of the action. The cinematography is exceptional, capturing the beauty and horror of the African landscape in equal measure.
Overall, Johnny Mad Dog is a powerful and thought-provoking film that confronts the realities of war and the human toll it takes. It is not an easy film to watch, as it deals with some difficult themes and depicts some brutal violence. But it is a film that demands to be seen, a reminder of the atrocities that continue to occur around the world and the children who are caught in the middle.
Johnny Mad Dog is a 2008 drama with a runtime of 1 hour and 34 minutes. It has received mostly poor reviews from critics and viewers, who have given it an IMDb score of 6.7 and a MetaScore of 45.