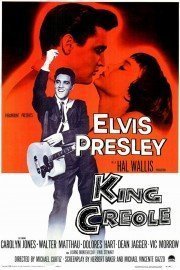 Watch King Creole
"Back on screen for the first time in a year!"
PG
1958
1 hr 56 min
King Creole is a 1958 musical drama film starring Elvis Presley, Carolyn Jones, and Walter Matthau. It is directed by Michael Curtiz and based on the book A Stone for Danny Fisher by Harold Robbins. The film's storyline revolves around Danny Fisher, a young man living in New Orleans who dreams of becoming a singer but is caught up in a world of crime.
The movie is set in the 1950s in the French Quarter of New Orleans, and the atmosphere is electric from the very beginning. The audience is introduced to Danny (Elvis Presley), who is shown as a tough guy who is good at fighting and always getting into trouble. However, he has a hidden talent - he is a talented singer who performs at nightclubs in his spare time. Danny's father is an ex-boxer who is now a nightclub bouncer, and his mother is dead.
One day, Danny is given an opportunity to sing at a nightclub owned by Maxie Fields (Walter Matthau), a ruthless gangster who runs the city's underworld. Maxie is impressed by Danny's voice and offers him a job at his nightclub. Danny sees this as an opportunity to earn money to support his family and fulfill his dream of becoming a singer.
Danny's life takes a turn for the worse when he becomes involved with Maxie's girlfriend, Ronnie (Carolyn Jones). Ronnie is a seductive woman who is also a singer at Maxie's nightclub. Maxie becomes jealous when he finds out about Danny and Ronnie's relationship, and things start to spiral out of control.
The movie is full of great musical numbers, including "Hard Headed Woman," "Trouble," "Dixieland Rock," and "King Creole." These songs showcase Elvis Presley's incredible talent as a singer, and they are a treat for fans of his music.
The film also delves into some darker themes, including racism, poverty, and crime. The character of Danny is a well-developed one, and the audience can empathize with his struggles. He is torn between his loyalty to his family and the romantic relationships he forms with Ronnie and Maxie. The tension between these characters is palpable and adds to the overall drama of the film.
King Creole is a classic Elvis Presley film that showcases his incredible talent as a singer and actor. It also includes a great supporting cast that includes Carolyn Jones and Walter Matthau. The film's themes still resonate today, making it a timeless classic. If you are a fan of Elvis Presley or classic musical dramas, then King Creole is a must-see.
King Creole is a 1958 drama with a runtime of 1 hour and 56 minutes. It has received mostly positive reviews from critics and viewers, who have given it an IMDb score of 7.0.