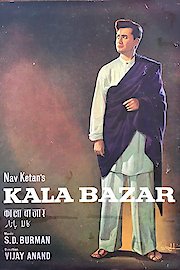 Watch Kala Bazar
"The Black Market"
Kala Bazar is a 1960 Bollywood film that stars legendary actors Dev Anand, Waheeda Rehman, and Nanda Karnataki. Directed by Vijay Anand, this classic film tells the story of a young man named Raghuvir Sahay (Dev Anand), who dreams of becoming a successful businessman. Raghuvir Sahay, also known as Raghunath, is an ambitious young man who grows up with his parents and sister in a village. His father is a jeweler, and Raghunath is inspired by his work ethic and business acumen. He moves to the city of Bombay to further his ambitions and make a better life for his family. Raghunath is a hardworking and honest man who is determined to succeed, but he faces numerous challenges and obstacles on his journey.
One of the challenges Raghunath faces is the corrupt businessman Sir J.C. Mayer (Bipin Gupta), who operates a black market in the city. Mayer offers him a job as a salesman in his store, where he sells illegal goods. However, Raghunath refuses to compromise his integrity and decides to start his own business.
As he tries to establish himself in the market, Raghunath meets a beautiful and mysterious woman, Alka (Waheeda Rehman). She works in a nightclub and is also pursued by another man, the villainous pop singer Tommy (Vijay Anand). Alka and Raghunath fall in love, but their relationship is complicated by Alka's past.
Meanwhile, Raghunath's sister Geeta (Nanda Karnataki) falls in love with a police officer (Jeevan), who is investigating Mayer's illegal activities. Geeta's relationship with the officer puts her entire family in danger and adds more tension to Raghunath's life.
Kala Bazar is a film that explores the themes of ambition, love, and morality in a fast-paced and engaging way. It showcases the struggles of a young man who tries to make an honest living in a corrupt city, while also navigating romantic and familial relationships. Dev Anand delivers a powerful performance as the lead character, Raghunath, and he is supported by a talented cast that brings the story to life.
The film features some iconic songs that are still popular today, such as "Khoya Khoya Chand" and "Naariyan Shaam Ki."
Overall, Kala Bazar is a must-see classic Bollywood film that stands the test of time. It offers a glimpse into the world of Bombay in the 1960s and presents a compelling narrative that keeps the audience engaged from start to finish.