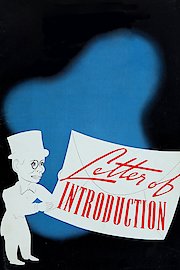 Watch Letter Of Introduction
"Truly Great Entertainment - Great in theme...great in cast...and the great scalawag Charlie McCarthy"
Approved
1938
1 hr 44 min
In the late 1930s, the movie industry was dominated by movies that romanticized the American Dream, inspiring a generation of viewers to believe that they too could achieve greatness in the land of the free. Letter of Introduction, a 1938 film directed by John M. Stahl and starring Adolphe Menjou, Andrea Leeds, and George Murphy, is a perfect example of this genre. With its message of hard work and determination, Letter of Introduction is a heartwarming film that teaches us the value of friendship, loyalty, and chasing our dreams against all odds.
The plot of the movie revolves around a young aspiring actor named John, played by George Murphy, who dreams of making it big on Broadway. Despite his talent and hard work, John is struggling to break into the theater scene, and he can't seem to catch a break. One day, while working as a cab driver, he picks up a famous Broadway producer named Charles, played by Adolphe Menjou.
Overwhelmed by his luck, John introduces himself to Charles and tells him about his dream of becoming an actor. Charles, being a man of compassion and generosity, takes John under his wing and helps him get a small role in his upcoming production. John is grateful for the opportunity and works hard to prove himself, earning the respect and admiration of Charles and his friends.
However, John's success is threatened when his past catches up with him. As it turns out, John had been in a gang earlier in his life, and his former associates are determined to drag him back into a life of crime. They blackmail him, forcing him to sabotage Charles's show or suffer the consequences.
John is torn between his loyalty to his friends and his desire to make something of himself. He confides in his friend and love interest, Terry, played by Andrea Leeds, who tries to help him find a way out of his predicament. As the opening night of the show approaches, John must decide whether to follow his dreams or to sabotage his mentor's career.
The movie is a character-driven drama that explores themes of ambition, loyalty, and redemption. The cast delivers strong performances, with Adolphe Menjou stealing the show with his portrayal of Charles, a wise and witty Broadway veteran who sees potential in John. George Murphy is charming as the earnest and hardworking John, and his chemistry with Andrea Leeds is believable and heartwarming.
The film is also a love letter to the theater, with several scenes showing the backstage shenanigans and the glamorous world of the Broadway elite. The costumes and sets are impeccably designed, giving the film a nostalgic and romantic feel that transports us back to the golden age of Hollywood.
Overall, Letter of Introduction is a charming and inspiring movie that will leave you with a warm feeling in your heart. It's a timeless story of friendship, ambition, and redemption, reminding us that with hard work and determination, anything is possible.