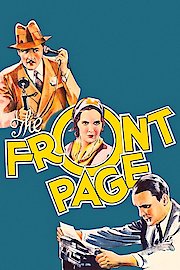 Watch The Front Page
"A Picture That Has Cracked This Shock-Proof Town Wide Open!"
TV-PG
1931
1 hr 41 min
76
Hildy Johnson is engaged to be married and then he plans to move to New York in order to make more money as a newspaper advertiser. While he is still working as a reporter in his small town, the escape of a major criminal gives him the bright idea to follow the story. He pays someone a tremendous amount of money that was supposed to be used on his honeymoon, but things do not work out quite the way he thinks it will and his fiancé might have a few things to say about it. He has to figure out a way to get the money back or he may not be getting married.