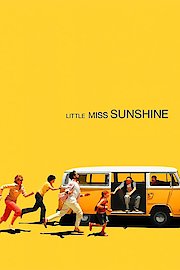 Watch Little Miss Sunshine
"A family on the verge of a breakdown"
R
2006
1 hr 43 min
80
Little Miss Sunshine is a 2006 American comedy-drama film that portrays the life of the dysfunctional Hoover family and their journey to support their seven-year-old daughter Olive by participating in a beauty pageant. Directed by Jonathan Dayton and Valerie Faris, the movie features an ensemble cast including Steve Carell, Toni Collette, Greg Kinnear, Abigail Breslin, Paul Dano, and Alan Arkin. The movie focuses on the Hoover family, who live in Albuquerque, New Mexico. The patriarch of the family, Richard (Greg Kinnear), is a failed motivational speaker and a self-proclaimed expert in winning, who dreams of success and recognition. Richard's wife, Sheryl (Toni Collette), is a loving and supportive mother who tries to hold the family together amidst their struggles. Richard's father, Grandpa Edwin (Alan Arkin), is a foul-mouthed drug addict who lives with the family and provides Olive with the encouragement she needs to compete in the Little Miss Sunshine beauty pageant. Olive, the youngest member of the family, is a quirky and lovable little girl who dreams of becoming a beauty queen. Meanwhile, the family's son, Dwayne (Paul Dano), has taken a vow of silence and dreams of becoming a fighter pilot. He spends most of his time working out, reading Nietzsche, and ignoring his family. The final member of the Hoover family is Sheryl's brother, Frank (Steve Carell), a depressed and suicidal Proust scholar who has recently been released from a hospital after a failed suicide attempt. When Olive receives an invitation to participate in the Little Miss Sunshine beauty pageant in California, the family packs into their Volkswagen bus and embarks on a road trip to attend the contest. Along the way, the family faces numerous challenges and obstacles that threaten to derail their mission, including their unreliable and decrepit vehicle, a catastrophic breakdown, and interpersonal conflict. As the family comes to grips with their struggles, they begin to realize that true wealth is not in financial success but in the love and loyalty of family. The journey to California becomes a journey of self-discovery, where each family member learns the value of ignoring their failings and focusing on their strengths. The family's journey also provides them with the opportunity to mend their broken bonds and build new ones that ultimately make them stronger and more resilient. Little Miss Sunshine is a movie that leaves a lasting impression on its viewers. It beautifully portrays the intricacies of family life and how a group of individuals can come together despite their differences and create a bond that is unbreakable. The humor and quirkiness of the movie along with the underlying themes of love, acceptance, and support make it a must-watch. With an outstanding ensemble cast, Little Miss Sunshine is a timeless classic that is as relevant today as it was when it was released.