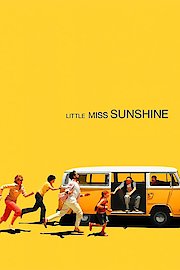 Watch Little Miss Sunshine
"A family on the verge of a breakdown"
R
2006
1 hr 43 min
80
Little Miss Sunshine is an independent comedy that premiered at the Sundance Film Festival in the summer of 2006. Directed by husband and wife team Jonathan Dayton and Valerie Faris, it was written by newcomer Michael Arndt. Starring Steve Carell, Greg Kinnear, Toni Collette, Abigail Breslin, Paul Dano, and Alan Arkin, Little Miss Sunshine is set in Arizona and southern California. After an unexpected positive reception, the movie was picked up by Fox Searchlight Pictures and went on to gross more than $100 million at the box office. In this dare-to-be-different comedy, the stars all play part of the same quirky family. Greg Kinnear plays Richard Hoover, and Toni Collette plays his wife, Sheryl. Played by Steve Carell, Sheryl's brother Frank is living with the family after an attempted suicide over a devastating breakup between him and his boyfriend. Abigail Breslin plays little Olive, a precocious seven year old with big dreams. Her sixteen-year-old brother Dwayne is played by Paul Dano and has taken an oath of silence until he can leave to become an Air Force test pilot. Rounding out this unconventional family is Alan Arkin, who plays Richard's senile father Edwin. Edwin has a drug habit but is very close to his granddaughter. Less than wealthy, the Hoover family still tries to make the best of things by accommodating the needs of each member, especially Olive, who learns she has qualified for the Little Miss Sunshine Pageant in California. Due to circumstances, the entire family must pile into a run-down Volkswagen van to make the trip to the pageant. On the journey to California many bumps in the road occur that leave the family out of sorts and at their wits' end. Though barely making the pageant deadline, Olive is still allowed to perform. But her rendition of Super Freak causes an outrage at the pageant, and the family causes a ruckus that has them banned from beauty pageants forever. Throughout Little Miss Sunshine, the Hoover family faces many obstacles and learns as much about each other as they learn about themselves.