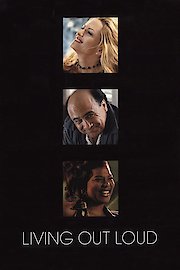 Watch Living Out Loud
R
1998
1 hr 40 min
64
Living Out Loud is a 1998 romantic comedy-drama directed by Richard LaGravenese, starring Holly Hunter, Danny DeVito, and Queen Latifah. The movie follows Judith Nelson (Hunter), a divorced woman in her forties who is struggling to find her place in the world. Disappointed with her failed marriage and stuck in a dead-end job as a receptionist, Judith seeks solace in her newfound friend and confidant, Liz Bailey (Latifah), a nightclub singer who encourages her to live life to the fullest.
Danny DeVito plays Pat Francato, a petty thief and elevator operator who becomes Judith's unlikely love interest. Through their escapades, Judith learns to let go of her fears and embrace the opportunities around her. The film explores themes of love, loss, friendship, and self-discovery set against the backdrop of New York City's vibrant nightlife.
Living Out Loud is a visually stunning film with lush cinematography capturing the city's iconic landmarks and its quirky inhabitants. The soundtrack features classic jazz standards and contemporary pop songs, adding to the film's charm and whimsy. Queen Latifah's powerful performance as Liz Bailey elevates the film and provides a much-needed dose of humor.
Holly Hunter delivers a nuanced portrayal of Judith, conveying both her vulnerability and strength. She captures the character's frustration with her mundane life and her desire for something more. Danny DeVito provides comedic relief as Pat Francato, a down-on-his-luck man who finds a kindred spirit in Judith. The chemistry between Hunter and DeVito is palpable, and their scenes together provide some of the movie's most memorable moments.
Living Out Loud is a film about second chances and taking risks. It reminds us that it's never too late to start over or find happiness. Its message is uplifting and empowering, encouraging viewers to live out loud and seize the moment.
Overall, Living Out Loud is a heartwarming film that resonates with audiences of all ages. Its stellar performances, beautiful cinematography, and memorable soundtrack make it a must-see for fans of romantic comedies and character-driven dramas alike. If you're in the mood for a feel-good film that will uplift your spirits, Living Out Loud is the perfect choice.
Living Out Loud is a 1998 comedy with a runtime of 1 hour and 40 minutes. It has received moderate reviews from critics and viewers, who have given it an IMDb score of 6.5 and a MetaScore of 64.