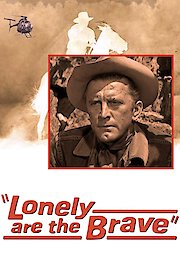 Watch Lonely Are the Brave
"Life can never cage a man like this!"
TV-PG
1962
1 hr 47 min
Lonely Are the Brave is a western drama that was released in 1962. The film involves a cowboy who has had his best friend locked up in jail, and he finds that he simply cannot live without the company of his best friend. The cowboy decides that the only way for him to get his friend out of jail is to go to jail himself in order to help him breakout. The cowboy commits a crime to get put in, and he soon adjusts to the prison environment. He and his friend then use their cowboy skills to ride off together.