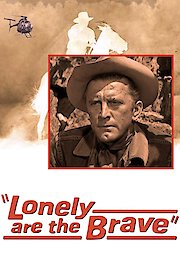 Watch Lonely Are the Brave
"Life can never cage a man like this!"
TV-PG
1962
1 hr 47 min
Lonely Are the Brave is a 1962 Western drama film that tells the story of John W. "Jack" Burns (Kirk Douglas), an old-fashioned cowboy who is on a quest for freedom in a rapidly changing world. The film explores themes such as individualism, loyalty, and the conflict between modernity and tradition. The movie is directed by David Miller and features an outstanding cast that includes Gena Rowlands, Walter Matthau, and George Kennedy.
The movie opens with Burns riding his horse across the vast desert, trying to escape the urbanized world that surrounds him. Burns is a man of the old West, an individualist who believes in living life on his own terms. He is a wanderer, a drifter, a man who seeks to be free from the constraints of society. Burns' adventure begins when he decides to break his best friend Paul Bondi (Michael Kane) out of jail, where he is serving time for aiding illegal immigrants to cross the border.
Burns' plan is to take Bondi to the wilderness, where they can evade the law and live freely like cowboys. However, his plan is complicated by the fact that Bondi does not share his desire for freedom. Bondi is a man who wants to settle down, get a job, and live a normal life. Despite this, Burns persuades his friend to go along with his plan, and they set off into the mountains.
As the two friends try to evade the law, they face a series of obstacles that test their courage, ingenuity, and loyalty. They must cross treacherous terrain, avoid dangerous predators, and confront hostile men. Along the way, Burns meets a lonely woman named Jerry (Gena Rowlands), who lives with her son in a remote cabin. Burns is captivated by Jerry's independent spirit, but their relationship is complicated by the fact that she is married to a violent and possessive man (Walter Matthau).
Lonely Are the Brave is a character-driven film that focuses on the emotional journey of its protagonist. Burns is a complex character, a man torn between his desire for freedom and his loyalty to his friend. He is a man of principle, a man who believes in the code of the West, but he is also a man who is aware of his own mortality. Douglas's performance as Burns is outstanding, capturing the essence of the character's rugged individualism and vulnerability.
The film's supporting cast is also excellent. Gena Rowlands brings heart and depth to her role as Jerry, a woman who yearns for affection and independence. Walter Matthau, in one of his earliest film roles, delivers a chilling performance as the sadistic and manipulative husband of Jerry. Michael Kane, as Burns' friend Bondi, portrays a conflicted character who struggles with his loyalty to his friend and his desire for a normal life.
The film's cinematography is another standout feature. The vast, unspoiled landscapes of the American West are captured in stunning detail, providing a stark contrast to the urban landscapes that surround them. The film's score, composed by Jerry Goldsmith, is also noteworthy, providing a sense of urgency and tension to the film's action sequences.
Overall, Lonely Are the Brave is a timeless classic that explores themes that are still relevant today. Its portrayal of a man who is struggling to preserve his freedom in a world that is rapidly changing is poignant and powerful. The film's outstanding performances, stunning cinematography, and memorable score make it an unforgettable experience.
Lonely Are the Brave is a 1962 western with a runtime of 1 hour and 47 minutes. It has received mostly positive reviews from critics and viewers, who have given it an IMDb score of 7.6.