Watch Love Me If You Dare
Love Me If You Dare is a French film produced by Christophe Rossignon. The story centers on a young girl named Sophie, who is the victim of bullying by her fellow students, and Julien, a young boy who helps Sophie gather up her books after the other children toss them into a puddle. The two children sit next to each other on the school bus.
To make her feel better, Julien gives Sophie a gift of a tin box. The box was given to him by his mother, and so Julien asks Sophie to let him borrow it sometimes. Sophie asks Julien to prove how important the box is to him. In response to her challenge, Julien releases the bus's handbrake, and the bus begins careening down the hill. From then on, the tin box rotates back and forth between the two after each one carries out the other's dare.
Julien and Sophie's friendship grows over time. They get into trouble in school and continue to dare each other constantly. When they're teenagers, they each get involved in romantic relationships, but their own relationship continues to develop. As an adult, Julien ends up marrying someone else, and Sophie tells him that she will not see him for another decade.
A decade later, Julien is still married and has two children. Sophie is married as well. On Julien and his wife's tenth anniversary, Sophie sends her old friend a letter letting him know that their dares can now resume. In spite of their spouses' disapproval, the two get together for another dare.
The story has two different endings, which are shown one after the other. In one ending, Julien and Sophie choose a final dare
|
2003
|
1 hr 33 min
|

/

10
Cast

Studio

Director

Yann Samuell

Language

English
Love Me If You Dare News
It's a Boy for Oscar Winner Marion Cotillard!
May 20, 2011 @ 6:10 am PST
|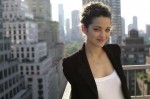 "La Vie en Rose"...no more like "La Vie en Bleu" for Oscar winner Marion Cotillard who gave birth to a healthy baby boy last night in Paris. A source confirmed to PEOPLE that both mother and baby, named Marcel, are doing fine. The "Inception" star, 35, and her actor/director honey, Guillaume Canet, announced in January that Cotillard was expecting.
Read More

Marion Cotillard Is Pregnant!
January 10, 2011 @ 3:56 pm PST
|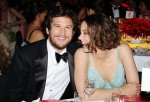 Inception actress Marion Cotillard is officially going to become a mother!
According to US Magazine, the Oscar winning actress will be welcoming her first child with boyfriend of three years, Guillaume Canet.
Marion and Guillaume met while working together in the 2003 French film Love Me if You Dare.
Marion also starred in both Little White Lies and Woody Allen's Midnight in Paris.
Read More


Watch Love Me If You Dare Trailer

Watch Love Me If You Dare Online - Watch online anytime anywhere: Stream, Buy, Rent
Love Me If You Dare is currently available to watch and stream, buy, rent on demand at Amazon, Vudu, Google Play, YouTube VOD, iTunes online.