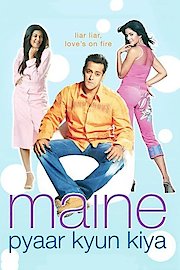 Watch Maine Pyaar Kyun Kiya?
"Liar liar, love's on fire."
2005
2 hr 26 min
Samir is a doctor with an eye for beautiful patients. He knowingly seduces female nurses and clients who seem to satisfy the holes in his own marriage. One beautiful patient, Sonia, is enough to throw Samir off of his daily philanderous routine. She makes Samir rethink his opinions of marriage, children, family and tradition. Once Sonia's entire family is involved, the relationship takes a comedic turn towards fidelity.