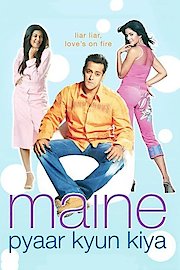 Watch Maine Pyaar Kyun Kiya?
"Liar liar, love's on fire."
2005
2 hr 26 min
Maine Pyaar Kyun Kiya? is a romantic comedy film that was released in 2005, directed by David Dhawan and produced by Sohail Khan. The film stars Salman Khan, Sushmita Sen, Katrina Kaif and Sohail Khan in lead roles, and features Arshad Warsi in a supporting role. The story of the film revolves around a doctor named Samir (Salman Khan), who lies to his girlfriend Naina (Sushmita Sen) about being married, to avoid getting married to her. However, Naina finds out about his lie and decides to leave him. In order to win her back, Samir decides to create a false story about him being married to a nurse named Sonia (Katrina Kaif). Consequently, this leads to an interesting turn of events, as the three of them end up living under the same roof. Salman Khan delivers a convincing performance as Samir, who starts off as a dishonest man but eventually learns the value of honesty and true love. Sushmita Sen, as Naina, is a strong-willed and independent woman, who is not afraid to speak her mind. Katrina Kaif, as Sonia, delivers a charming performance, portraying a kind-hearted nurse who falls in love with Samir. The film is full of comic moments and has a fast-paced narrative, which keeps the audience engaged. The chemistry between the three leads is palpable and adds to the overall charm of the film. The film also boasts of some catchy music, with songs like "Just Chill" and "Sajan Tumse Pyar" being chartbusters. One of the standout elements of the film is the beautiful scenic locations that have been captured on camera. The film was shot in exquisite locations like Goa and Dubai, which adds to the film's overall visual appeal. Overall, Maine Pyaar Kyun Kiya? is an enjoyable watch that manages to strike the right balance between romance and comedy. The film's lighthearted tone and entertaining performances make it a perfect choice for a family movie night.