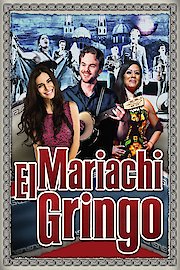 Watch Mariachi Gringo
TV-PG
2012
1 hr 48 min
42
Mariachi Gringo is a 2012 independent movie directed by Tom Gustafson and produced by Chris Siametis. The film stars Shawn Ashmore, Martha Higareda, and Kate Burton in lead roles. Set in the small Mexican town of Guadalajara, Mariachi Gringo tells the story of Edward (Shawn Ashmore), a young man from Kansas who dreams of becoming a successful musician. Tired of living an ordinary life, Edward decides to break free from his routine and travel to Mexico to pursue his passion for music.
Once in Mexico, Edward meets Lilia (Martha Higareda), a beautiful waitress who works at a local bar. Lilia enjoys playing mariachi music in her free time, and through her, Edward discovers a whole new world of music and culture. Lilia helps Edward to develop his talent, and soon he becomes a skilled mariachi musician.
As Edward gets more involved with the local music scene, he meets some fascinating people, including Bolivar (Luis Fernando Pena), a famous mariachi musician who takes Edward under his wing, and Sherry (Kate Burton), a wealthy American expat who is fascinated by Edward's talent and becomes his patron.
One of the most endearing aspects of Mariachi Gringo is its portrayal of Mexican culture. The film captures the vibrancy and warmth of Mexican communities and the importance of music and family in everyday life. The soundtrack of the movie is filled with fantastic renditions of classic mariachi songs, which give viewers a real sense of the joy and beauty of this traditional Mexican music.
Another highlight of the movie is the chemistry between Ashmore and Higareda, who both deliver excellent performances. Ashmore, best known for his role as Iceman in the X-Men movies, proves himself as a versatile actor who can handle both drama and comedy with ease. Higareda, a prolific Mexican actress, is a delight to watch as Lilia, radiating charm and charisma in every scene.
Mariachi Gringo is a beautiful film that celebrates the power of music to bridge cultural differences and bring people together. It shows how, even though our backgrounds and experiences may differ, we can still find common ground through our shared love of music and art.
Overall, Mariachi Gringo is an excellent movie that boasts a great soundtrack, beautiful visuals, and outstanding performances by its lead actors. It is a heartwarming and uplifting tale about chasing your dreams, discovering your true self, and finding your place in the world.