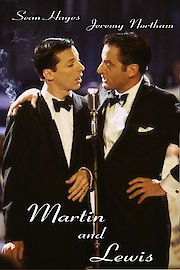 Watch Martin and Lewis
"Every end has a beginning."
2002
1 hr 32 min
Dean Martin and Jerry Lewis were hugely popular as a comedy duo in the 1950s. They eventually had a falling out and went their own ways. This is 2002 biographical drama about the early years of the duo. John Gray directed the movie for CBS. Jeremy Northam stars as Martin and Sean Hayes as Lewis. Hayes received a Screen Actors Guild Award for his role. The movie begins with Martin and Lewis meeting for the first time in 1946. The movie is a real eye opener into their professional and personal lives. It focuses particularly on the tensions and rivalry between the two stars. This is an excellent movie to see for anyone interested in Dean Martin or Jerry Lewis.