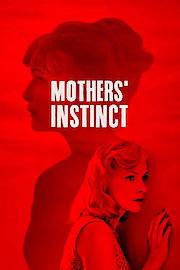 Watch Mothers' instinct
2019
1 hr 37 min
Mothers' Instinct is a 2018 Belgian-French drama directed by Olivier Masset-Depasse. The film is a mystery-thriller that revolves around the lives of two close-knit families who live in the same suburban neighborhood. Written by Masset-Depasse, Giordano Gederlini, and Francois Verjans, the film is based on a novel by Barbara Abel. The story is set in the 1960s and opens with the introduction of two young mothers – Alice (Veerle Baetens) and Céline (Anne Coesens) – who become friends while raising their young children in a quiet and picturesque suburb. Alice, a housewife, is married to François (Mehdi Nebbou), an engineer, and they have two children, a girl, and a boy. Céline is a free-spirited artist who lives with her husband, Alain (Arieh Worthalter), and their two sons in the same neighborhood.
As the story progresses, a string of events leads to a chilling mystery that threatens to tear apart the families' peaceful existence. Céline's six-year-old son, Rémy, disappears without a trace one afternoon. Despite a frantic search by the police, neighbors, and the community, he is nowhere to be found. In the aftermath of the tragedy, Alice becomes convinced that she knows what happened to Rémy and that Céline is somehow responsible.
Plagued by feelings of guilt and shame, Alice begins to track Céline's every move and becomes increasingly obsessive in her quest to prove her theory. As her suspicions mount, Alice convinces herself that she needs to take matters into her own hands, regardless of the consequences.
The film's narrative is an intense examination of the dark side of maternal instinct and the lengths that parents will go to protect their children. Alice's behavior is a disturbing portrayal of the psychological trauma that takes over a mother's mind when her child is in danger. The unraveling of her sanity is depicted with such accuracy that the viewer can almost feel her desperation and pain.
Equally compelling is the portrayal of Céline, who comes across as a fragile and vulnerable character who is haunted by her son's disappearance. Her emotional breakdown and the resulting impact on her family is portrayed with a raw intensity that is hard to watch.
Veerle Baetens and Anne Coesens deliver powerful performances as the two mothers, capturing the complicated emotions and motivations that drive their actions. Their chemistry is palpable, and their friendship is portrayed with warmth and authenticity.
Mehdi Nebbou also puts in a strong performance as Alice's husband, François. He is the only character who tries to remain objective and see the situation for what it is, but his efforts are futile as Alice's obsession takes over.
The film's production design and cinematography create a captivating atmosphere that captures the suburban lifestyle of the 1960s. The muted colors and the subdued tone of the film add to the sense of unease and foreboding that permeates the narrative.
Overall, Mothers' Instinct is a gripping thriller that will keep the viewer on the edge of their seat until the very end. It is a haunting exploration of the power of maternal instinct and the devastating consequences of obsession.
Mothers' instinct is a 2019 drama with a runtime of 1 hour and 37 minutes. It has received moderate reviews from critics and viewers, who have given it an IMDb score of 6.4.