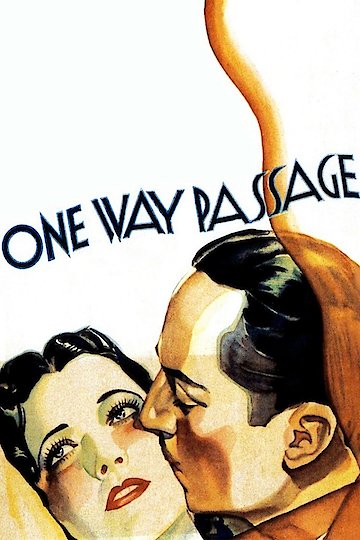 Watch One Way Passage
"Their tickets took them to a heaven of love...but port was the gateway to hell!"
Passed
1932
1 hr 7 min
One Way Passage is a romantic drama film released in 1932 directed by Tay Garnett and starred William Powell, Kay Francis, and Frank McHugh. The film tells the story of Joan Ames (Kay Francis), a terminally ill woman who falls in love with a convicted criminal named Dan Hardesty (William Powell) on a cruise ship bound for San Francisco. Dan Hardesty is a charming and debonair gentleman convicted of manslaughter and doomed to be executed in San Francisco. While on board the ship, he meets Joan Ames, a beautiful woman who is diagnosed with a heart ailment and has only a short time to live. Despite her illness, Joan is in high spirits and determined to make the most of her remaining time. When Dan and Joan meet, there is an immediate attraction between them, and they quickly fall in love. As the ship makes its way to San Francisco, Dan and Joan have many romantic moments together, which are interrupted by the ship's crew and other passengers. The two lovers try to make the most of their time together, knowing that their love affair will be fleeting. However, their growing love and mutual attraction are put to the test when Dan's criminal past threatens to catch up with him. Despite his feelings for Joan, the threat of his impending execution hangs over Dan like a dark cloud. He knows that he cannot escape his past forever, and that his love for Joan will eventually come to an end. However, he is determined to make the most of his time with her, no matter how short it may be. On the other hand, Joan realizes that she is running out of time and wants to spend as much time as possible with Dan before it's too late. As the ship reaches San Francisco, both Dan and Joan face their own personal betrayals and demons. The film reaches its climax with an emotional and heartbreaking ending, which leaves viewers with a sense of bittersweet satisfaction. One Way Passage is a movie that captures the era of 1930s Hollywood glamour, style, and romance. The chemistry between William Powell and Kay Francis is palpable, and their performances are convincing, poignant, and heartfelt. The movie manages to blend light-hearted comedy with emotional romance, creating a unique movie experience that is both entertaining and thought-provoking. The cinematography is impressive, with stunning shots of the ocean, the cruise ship, and San Francisco bay. The movie's setting is glamorous and luxurious, which serves as a perfect backdrop for the romantic story. One Way Passage received critical acclaim upon its release, earning three Academy Award nominations, including Best Picture, Best Director, and Best Original Story. The film was also a commercial success and remains a classic example of early 1930s Hollywood romance. In conclusion, One Way Passage is a timeless movie that offers an unforgettable experience for viewers who enjoy classic Hollywood movies. The movie's memorable cast, impeccable cinematography, and emotional storyline make it a must-watch for fans of romantic drama. It is a great example of 1930s Hollywood glamour and offers a glimpse into a bygone era of cinema.