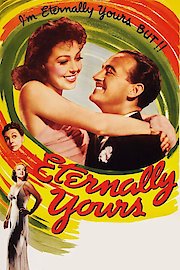 Watch Eternally Yours
"She lived at the edge of life - with out-stretched arms . . . too short to reach it! Romance - a baffling reality."
Passed
1939
1 hr 35 min
Anita Halstead is a woman engaged to be married in this comedy. She becomes enamored of a magician named Tony, known as The Great Arturo, after seeing his act. The pair elopes and Anita becomes Tony's assistant. But the magician gets jammed up when he brags about jumping handcuffed from an airplane, never intending to go through with the stunt. But he manages to succeed and begins performing the dangerous trick all over the world, much to Anita's dismay because she wants to settle down. They divorce and fate brings Anita together again with the fiancé she jilted for Tony.