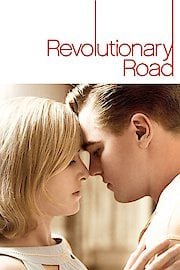 Watch Revolutionary Road
"How do you break free without breaking apart?"
R
2008
1 hr 59 min
69
Revolutionary Road is a 2008 drama film based on the novel of the same name by Richard Yates. Directed by Sam Mendes, the film stars Leonardo DiCaprio and Kate Winslet as a young, married couple named Frank and April Wheeler living in the 1950s suburban Connecticut. The story follows the couple who are unhappy with their mundane jobs and suburban lifestyle. They dream of a life of adventure and excitement in Paris, but as they begin to make plans, they face obstacles that threaten to tear apart their marriage. Frank is trapped in a dead-end corporate job and has a past of infidelity, while April's acting aspirations have been put on hold due to her becoming pregnant with their second child.
As their frustrations and resentments build, their once passionate relationship turns bitter and they begin to turn on each other. The tension reaches a breaking point when they attend a party hosted by Frank's coworker, where they have a heated argument that forces them to confront the reality of their situation.
The film is a showcase for the exceptional acting talents of DiCaprio and Winslet. They both deliver powerful performances as a couple struggling with their identity and purpose in life, and the chemistry between them is evident throughout.
The supporting cast, which includes Christopher Fitzgerald as Frank's mentally unstable coworker, adds depth to the story, but the focus remains on the deteriorating relationship between Frank and April.
Revolutionary Road is a poignant and powerful exploration of the American Dream gone awry. It's a story that will resonate with anyone who has ever felt trapped or unfulfilled, and it's a reminder of how even the most perfect-seeming lives can be haunted by unhappiness and regret.
In conclusion, Revolutionary Road is a gripping drama that showcases the talents of its lead actors and explores the complexities of marriage and suburban life in the 1950s. It's a thought-provoking film that will leave viewers pondering its themes long after the credits roll.
Revolutionary Road is a 2008 drama with a runtime of 1 hour and 59 minutes. It has received mostly positive reviews from critics and viewers, who have given it an IMDb score of 7.3 and a MetaScore of 69.