Rupert and the Frog Song






This section may require cleanup to meet Wikipedia's quality standards. Please improve this section if you can. (July 2009)


One day Rupert decides to climb the hill. With his Mother's blessing he sets off for a jolly trip. On the way he encounters his friends Bill and Edward. Rupert asks them if they will join him on his trip to the hills, but Edward has to do some shopping while Bill has to look after Baby Brother. Rupert accepts that his friends are busy, as he sets out to the hills and wishes them a good day. Once there, he props himself up against the trunk of an oak and sucks in the glory of the countryside. He suddenly finds himself enveloped by a rainbow cloud of butterflies, and all of them swarm away from the leafless oak towards a rocky outcrop and Rupert could not resist following them. Once he leaves, a large white Barn Owl lands on the barren tree along with two black cats. All three of them soon follow Rupert.
Upon the rocks, Rupert finds a large number of multicolored frogs. He walks into a cave behind a waterfall and sees three signs: "Frogs only beyond this Point", "Everything except frogs must be kept on a lead", and "Guard frogs operating". He sneaks into the palace, trying to avoid getting caught by the frog guards. After a moment of silence, most of the frogs sing "We All Stand Together". Around the end, the frog King and Queen rise out of the water before the crowd. After a thunderous applause from the frogs, The owl, (who snuck in also undetected with the cats), launches for an attack on the royals, Rupert yells, "Look Out!" and all the frogs quickly disappear. The king and queen are almost snatched by the barn owl, but they re-submerge just in time, the owl leaves, along with the cats, disappointed. Rupert's mother soon after calls him back home, and Rupert excitedly tells her about what he saw of the Frog Song.

1985
|
13 min
|

/

10
More Like Rupert and the Frog Song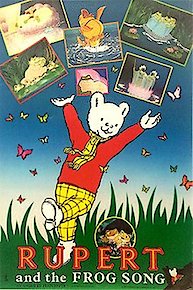 Watch Rupert and the Frog Song Trailer