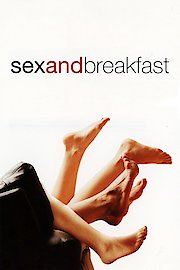 Watch Sex and Breakfast
"Inhibition is the enemy..."
R
2007
1 hr 21 min
Sex and Breakfast is an independent dramatic film about four young adults in their twenties who are trying to understand how love and lust work. A couple, Ellis and Renee, are becoming bored with each other and the overall relationship. They are perplexed about whether or not they should continue their relationship or not because they do still love each other. The story unravels as another couple, James and Heather, are also facing a similar dilemma sexually and are looking for some type of real magic that will revive their relationship. In an effort for both couples to find a solution to their problem, they meet a therapist at a sexual health lecture, which is where they ironically meet. The trail of events from the lecture leave both couples with the concept of trading partners and trying out group sex, which will heighten the excitement in their relationships. The challenge of monotony becomes a thing of the past as the couples explore this opportunity to replenish the magic as well as meeting new friends in a way that they never imagined. The film stars Macaulay Culkin as James and Alexis Dziena as Heather. Renee is played by Eliza Dushku, and Ellis is played by Kuno Becker. The audience may think of the troubled relationships that most young couples face, as the two couples desperately give this concept of swapping partners and group sex a try. The story may leave the audience wondering how James is going to ultimately feel after he can't sexually satisfy his girlfriend but now has to rely on another man to take his place. Ellis faces the same dilemma as he is trying to plan a marriage with his partner Renee. By the end of the film, some may wonder how each relationship will survive or if the original relationships were meant to end with some new-found discoveries.