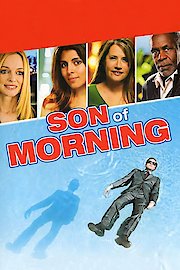 Watch Son of Morning
"The world's always looking for a savior. LET THERE BE PHILLIP."
R
2011
1 hr 20 min
Son of Morning is a comedic drama film released in 2011, written and directed by Yaniv Raz. The story follows the life of a copywriter named Philip Katz (played by Joseph Cross) who works for a huge advertising agency in New York. Philip is an intelligent young man with a talent for writing, but he is stuck in a job that doesn't allow him to fully utilize his creativity. One morning, Philip wakes up to find that his name is plastered all over the news as the winner of the lottery jackpot worth 30 million dollars. This news changes Philip's life dramatically as he is suddenly thrust into the limelight and everyone around him is changed by it. At the agency, Philip's reputation skyrockets as he is given free reign to create whatever he wants. He suddenly has the power and respect he always wanted. However, he realizes that even though he has all the money in the world now, his life is still unfulfilled. He feels lost and alone, realizing that money can't buy him love or happiness. Meanwhile, Philip meets an attractive and enigmatic woman named Penny Washington (played by Heather Graham) at a coffee shop. Penny is a spiritual healer who senses Phil's despair and decides to take him on a spiritual journey to help him find what he is really looking for. The movie features a stellar supporting cast that includes Edward Herrmann, Steven Weber, Tonya Pinkins, and Jamie Harris. Edward Herrmann plays Harvey, the leader of a cult-like group who promises Philip happiness, love, and everything else he desires in exchange for his money. Steven Weber plays Philip's boss at the advertising agency, who is envious of Philip's newfound success and wealth. Throughout the movie, Philip struggles to come to terms with his newfound riches and what it means for his life. He has several conversations with his deceased father, who appears to him in a vision, asking him to reevaluate his priorities and what's really important in life. As the movie progresses, Philip gets more and more entangled in the world of spiritual healers, gurus, and cults, each claiming to have the secret to happiness and fulfillment. He goes on several wild and bizarre adventures, trying to find himself and his place in the world. Son of Morning is a quirky and unique movie that blends comedy and drama with spiritualism and new-age philosophy. The film's overall message is about the importance of finding true happiness and fulfillment in life, beyond the trappings of money and material possessions. The performances by the cast, especially Joseph Cross and Heather Graham, are engaging and nuanced, bringing a depth and reality to the story. The movie has a dreamy and surreal quality to it, with vibrant visuals and imaginative sequences that take the viewer on a wild ride through Philip's search for enlightenment. The soundtrack is equally lovely and fitting, with songs that perfectly capture the mood of each scene. In summary, Son of Morning is a must-see movie for anyone who enjoys thought-provoking and unique films with great performances, stunning visuals, and a heartfelt message. It is a movie that stays with you long after you've watched it and reminds you of the importance of living a life filled with joy, love, and purpose.