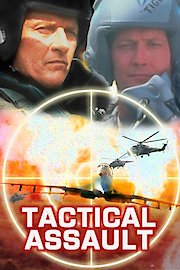 Watch Tactical Assault
"Every war has its secrets. This one's about to explode."
R
1998
1 hr 29 min
Tactical Assault is a 1998 film that falls into both the genres of action and thriller, and this film has been rated as R. This film has an approximate running time of about 1 hour and 29 minutes long, and it was directed by Mark Griffiths. Tactical Assault was produced by Paula M. Bass, David Bixler, Oliver G. Hess, Jeffery D. Ivers, Kevin M. Kallberg, Frank Kostenko Jr., Brad Krevoy, Peter Miskolczi, and Gabor Varadi. Furthermore, this film stars many well known actors and actresses such as Rutger Haver, Robert Patrick, Isabel Glasser, Dey Young, Ken Howard, Barry Zetlin, Harri James, Tam Logan, Wendy Benson Landes, Frank Moran, Bruce Anderson, Michael W. Mitchell, David Kadas, John Nadler, Richard Langan, and Sandor Teri. Tactical Assault is mainly focused on a 2 men by the names of John Doc Holiday, also known as just Doc, and Colonel Lee Banning. These two men are serving in Iraq together when there is a suddenly and deadly shoot out in the area of Iraqi's no fly zone. In the mist of this shoot out, Doc is ready to shoot down an Iraqi civilian airline, but before he is able to Colonel Lee Banning shots Doc down to stop him from killing the innocent. This shoot out leaves Doc injured, an absolute wreck, and lands him inside an Iraqi's prison After spending 6 years in the Iraqi's prison, Doc is finally released and returns back to active duty where he is greeted with a hero's welcome. However, Doc has a hidden agenda for becoming active duty again. Doc holds Colonel Lee Banning responsible for him going to prison and for wrecking his military career. He plans to get his revenge on Colonel Lee Banning no matter who he has to hurt in the process, even the Colonel's pregnant wife.